5 Best Compost Bins for Homes
Compost Bin convert bio-degradable waste into organic manure. Compost is the decomposed organic material that is produced when bacteria in soil break down garbage and biodegradable trash, resulting in a product rich in minerals that is an ideal garden nutrient. It's a simple way to add nutrient-rich humus to your lawn or garden that fuels plant growth and restores vitality to depleted soil. Home based composting is one of the primary component of sustainable living. This post lists 5 of the best-selling composting bins, ideal for home.
1. Trust Basket Compost Bins
Trust Basket's – Trustbin are indoor compost bin designed for converting all kinds of kitchen food waste into fertilizer.
The package includes compost bin, bokashi compost maker, detailed instruction manual. It takes about 4-6 weeks for the waste to convert into compost. The bin is reusable and can last up to 10 years on good maintenance. Additionally, since Trust Bins works on anaerobic process they do not produce foul smell.
2. Ugaoo Home Compost Bins
Ugaoo's Home Compost Bins also covert all kinds of kitchen food waste into fertilizer. These bins are well designed to fit in any small corner of kitchen, balcony or terrace of your home.
The composter kit includes 1 bucket with handle, 1 lid, 1 tap, 1 filter, 1 ezymix bokashi compost maker powder and 1 coco peat brick. Additionally, to help you start the composting within the comfort of your home, the package also includes a step by step instruction manual. The compost bin also works in anaerobic mode & hence no foul smell builds up.
3. Smart Bin Air
GreenTech Life's Smart Bin Air/ Compost Bins transform your food waste to healthy and fertile soil.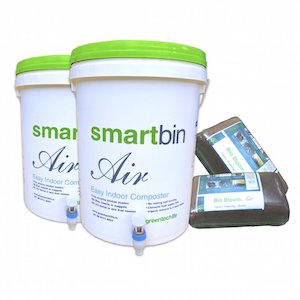 Their kit includes 2 smartbin air (20L) bins, 2 strainers, 2 stands, 2 taps, 3 kgs of bio bloom air (should last a nuclear family 30 – 45 days), 2 packets of camphor tablets, 1 pair of rubber gloves, 4 stage curing bags. However, unlike above 2, Smart Bin air works on aerobic composting and so there is flow of air. Hence, when kept indoor, it might result in bad odour.
4. Indoor Smart Compost Bins
Plastic made Indoor Smart Compost Bins by Daily Dump are set of chomps with stands for converting all kinds of kitchen food waste into manure.
Layer your kitchen waste with Remix Powder daily for smell free and fool proof composting. A set of 2 Chomps serves well for an Indian Family of upto 3 and Set of 3 Chomps serves well for an Indian Family of upto 5. It works on one step Aerobic process, no trouble of storing compost pickle in separate curing bags. These can be used as row composters in homes with some outdoor space.
5. Small Terracotta Home Composter
Daily dump also makes Motalota Terracotta Home Composter. Each Terracotta Composter is Handmade by Indian Potters.
A set of 3 Tier Small Terracotta Home Composter is ideal for a family of 1 to 3 generating upto 500Gms/Day of Organic Waste. It converts kitchen & organic waste to compost in 4-6 Weeks. The good thing about this product is that it does not contain any Plastic or any toxic elements. The package includes 3 Terracotta Pots, 1 Terracotta Lid and 1 Free Khamba composting Book.
Tell us more about your home based composting experience in the comments below.