Bluecat Paper: 100% Tree-Free Sustainable Paper Products Company in India
BlueCat Paper
Tree-Free | Handmade | Recycled | Up cycled
Paper is certainly one of the most important items invented by humans & it still plays crucial part in each of our daily lives, whether it be newspaper, paper bags, books, magazines, office papers, legal papers etc. In the process of making paper, trees are the most critical raw materials. It is estimated that about 24 trees are cut to make 1 ton of standard office paper. However,  tree paper or paper made from wood pulp contains only 30% -40% cellulose. In order to make up for this, chemicals are added to the paper making process resulting in the paper being harmful to the environment l as well as wasting thousands of liters of water. Started in 2018, Bluecat Paper aims to solve this problem & focusses on creating 100% TREE-FREE & sustainable paper products.
#Didyouknow – globally, the world is losing 18.7 million acres of forests every year – equivalent to 27 soccer fields every minute!

Source: WWF
Bluecat Handmade Paper
Bluecat Paper was started in 2018 with a focus on creating tree free, handmade, recycled and, up cycled paper and paper products. At Bluecat Paper, the paper is made using secondary agro-waste and industrial waste like cotton rags, flax, lemongrass, mulberry, rice stubble, coffee husk, tea leaves, banana stumps, coconut husk, and elephant poo to name a few.
The raw materials used are the residual waste that is very high in cellulose. Therefore chemicals are not added. This, in turn, makes it easy to recycle water back into production.
Papermaking needs water and liters of it!!
Bluecatpaper factory has an Effluent Treatment Plant (ETP) on the premises, which recycles water that can be utilized again in production. They efficiently recycle the water, and it is easy to do so when you add no chemicals. The paper is acid-free and is handmade
They save about 30 tonnes of wood/month and a minimum of 55,000+ liters of water a daily!
They work with the hope that "tree-free paper" becomes mainstream. At Bluecat paper, they make 5,000 to 6,000 sheets of paper a day". But this number is a trifle compared to the lakhs of sheets manufactured at a paper mill every day.
"Paper is never a big deal" We don't always think we are wasting paper just because it is cheap… But it comes at a price for our planet Earth."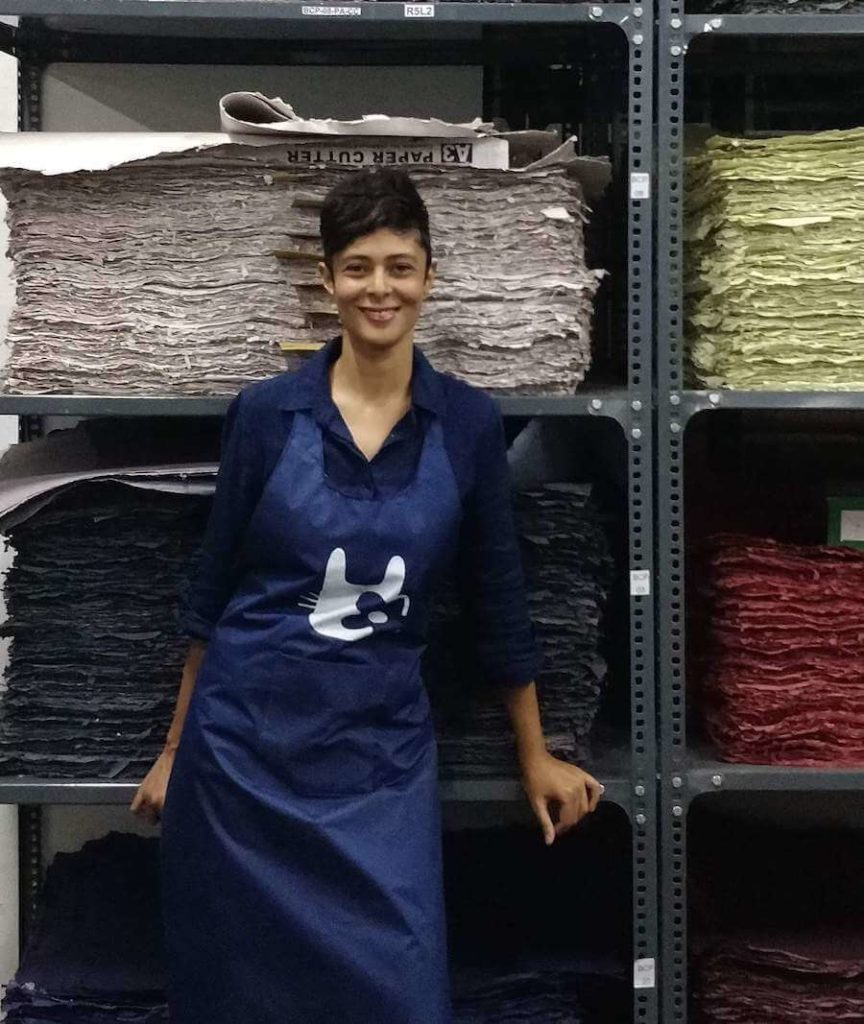 Founder
Kavya Madappa
Kavya Madappa an entrepreneur from Madikeri, Kodagu. She is the founder of two successful businesses. A luxury eco-friendly spa resort named Amanvana in Coorg and 'Bluecat paper', which manufactures Tree-free and handmade paper along with paper products.
Kavya realised the massive usage of paper in her business and how trees were being cut to make conventional paper. Unhappy by this, she embarked upon her journey to find means of making sustainable paper without cutting down trees.
She took multiple papermaking courses; a few that included a course at Kumarappa National Handmade Paper Institute in Jaipur, Pondicherry, and at Pune to learn more about papermaking and its clean uses. Thereafter, more research followed, based on residual fibers, textile waste rags, mulberry; including discarded coffee husk from Coorg. The potential of this was tested to be used for paper making.
Armed with this information, and the success of her research; that paper could be made without cutting trees, she launched her venture, 'BlueCat Paper' in early 2018.
The vision was threefold – Save trees, reduce waste, and save water!
Bluecat paper factory is located at Peenya, Bangalore, and collects cotton rags and other farm waste within a radius of 60 km.
The idea of saving trees was too awe-inspiring for Kavya to be daunted by the many challenges she was going to face.
BlueCat Paper Products:
---