Ksamah – Sustainable Alternative Products
KSAMAH is a Mumbai based start-up looking to solve the "EARTH CRISIS" by putting earth over profits. The company aims to inspire people to purchase aspirational eco-friendly alternatives to live a more healthy and natural lifestyle, also, give the Earth a chance it deserves. KSAMAH –Pronounced "sha-mah" is a Sanskrit word which means epithet of the lord -'The pure one; purity as god'.
People face issues two main issues when they want to change their lifestyle to a more eco-friendly one. First, they don't get alternatives easily and second, the alternatives are dull & not well made. They are not designed properly, well researched.
Pragati Dhanuka, the co-founder of Ksamah wanted to solve this problem and started researching in search for better and easy options for people to adopt. Later in 2019, she successfully launched their first Eco-Friendly product range.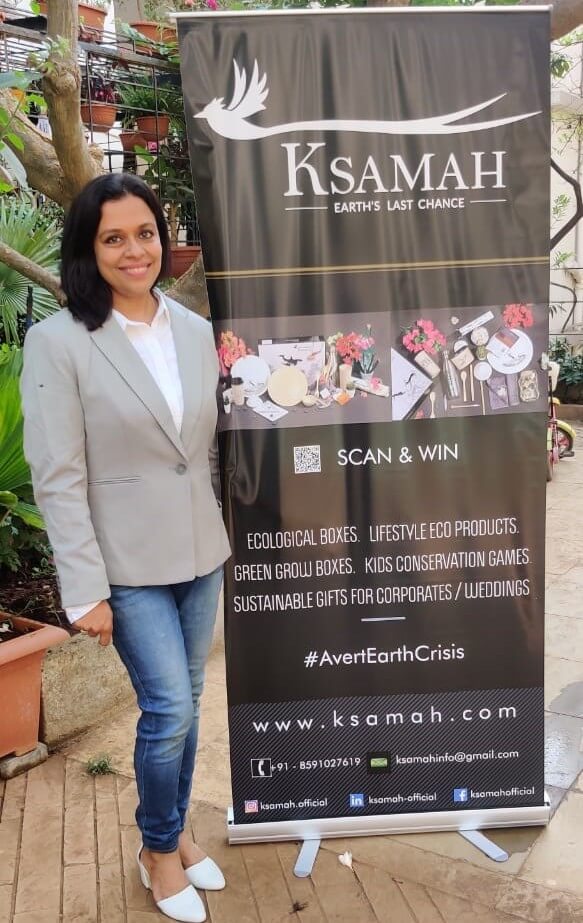 Founder
Pragati Dhanuka
In her own words, Your work fills a large part of your life, and I am truly satisfied to be a part of Ksamah at this juncture of my life.
Following the recycle / reduce waste ways of my family for many years and also my brother who was associated with Save Aarey Movement of Mumbai City. I loved being at sea, and beaches, watching waves was my medicine. It used to give me peace.
But through the past years, Mumbai's beaches are like walking through plastic bags & plastic bottles. I then thought of empowering my life in its second innings – also giving Earth a last chance it deserves with this sustainable start-up Ksamah. Its idea is to aid each and every citizen of the world to do their small bit to prevent #EarthCrisis.
Ksamah Products
Ksamah has launched BOXES (Ecological Start-up Kits, Office Ecological Boxes, Home Boxes, Travel Boxes and so on.) where in one shot you get a chance to reduce Carbon Footprint to approx. 50%. The products are all themed in wildlife designs commissioned for Ksamah inspiring individuals to care for earth and it's all beings. Their products are premium in nature to ensure it's acceptance (even from a utility perspective).
Check Out Ksamah's: