Rivaayat: Making Terracotta Pottery Sustainable
Rivaayat is a not-for-profit, social entrepreneurship venture by the students of Shri Ram College of Commerce (SRCC) to sustain and revive the dying art form of terracotta pottery. Conceptualised under the banner of acclaimed Creating Dreams Foundation's SRCC chapter, Rivaayat has been able to provide sustainable living to 17 people from 3 different states.
The existence of numerous problems such as lack of technical knowledge and potters being unable to meet the current demand of the customers has led to it slowly fading away. Through Rivaayat, the team aims to create a stable demand chain for these artisans. Rivaayat helps in the holistic development of our artisans and aspires to make them self sustainable, capable of performing diverse business activities themselves. The team is planning continuously to adopt more artisans and also expand into new art forms as well.
Founding Team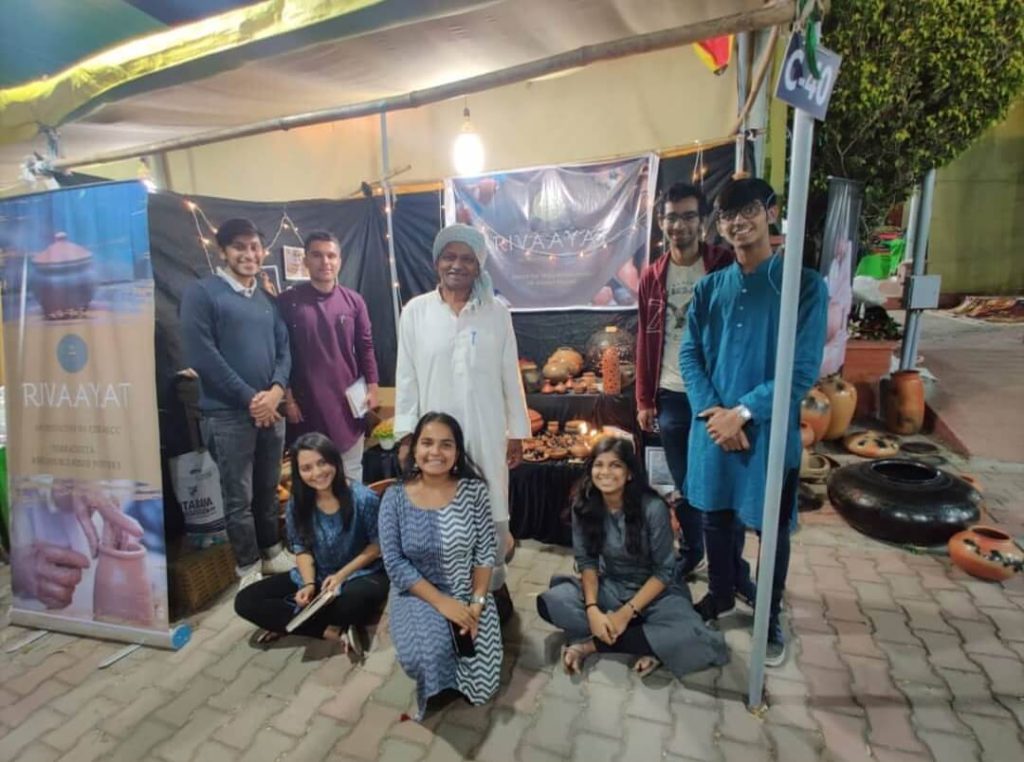 Rivaayat is a social initiative by the students of Shri Ram College of Commerce. They came across this place in Uttam Nagar, Delhi, and on researching, found out that it was the oldest and the largest potters hub in India, Kumhar Gali, providing shelter to over 600+ families.
They researched further about the art form, conducted surveys and were saddened to see them living in these appalling condition.
It was disheartening to know that even national award-winning artisans were abandoning their heritage. In the new technologically advanced marketing world, they were left far behind with a lack of demand and recognition.
Consequently, Rivaayat was born as a solution to revive this beautiful art form and help the artisans sustain themselves with pride and dignity.
Products:
Team Rivaayat is working to create a stable demand chain for them by connecting them directly with the consumers, incorporating contemporary designs to create a perfect blend of modernity and tradition, and providing them with a platform to showcase their skills, thus reviving their art-form. 
They have collaborated with professional designers to modernize their existing designs and provided them with training and skill development on various entrepreneurial activities. Their products are made from 100% natural materials.
The clay used by the artisans is usually sourced in Haryana, Rajasthan after which it is processed and refined. The refined clay is then put at the center of the potter's wheel where our artisans shape it into a beautiful artifact working with perfection towards each minute detail. This piece is then given a beautiful final texture by firing in a furnace. The shine that the flame gives to the products lasts forever!
Another aim to Rivaayat is to promote a sustainable lifestyle among people. Made from natural materials, terracotta products are 100% biodegradable, making them the perfect choice for environmentally conscious people. Besides its attractive colour and the fact that it maintains good looks over time, terracotta has numerous other certified benefits.
Cooking and eating in terracotta adds a host of natural vitamins and minerals like calcium, iron, phosphorus providing for a balanced meal that vitalizes our body and increases the richness and flavour of food. The clay used in making our products has alkaline properties which neutralizes the PH levels in food, leading to a healthy and scrumptious meal. 
In fact, the setup of terracotta earthenware is so perfect that it allows steam and vapour to stay in one place and due to this retention of heat, there is no need of increasing the temperature. Thus, meals cooked in terracotta retain heat and moisture for a longer time, without becoming soggy. 
While drinking from plastic bottles, the toxic chemicals that they contain harm us in more ways than one, whereas drinking from terracotta bottles increases metabolism and helps create a proper balance in our body. Even the terracotta planters made of clay, due to their porous nature, allow air and water to pass through them, thus promoting healthy plants by staving off root rot and disease caused by overwatering.
Check Out Rivaayat's