Colgate Unveils Recyclable Toothpaste Tube in Australia
In May 2021, Colgate-Palmolive has revealed its first recyclable toothpaste tube in Australia. The oral-care brand is launching what it says is a vegan-certified toothpaste that comes in an "industry-first" recyclable toothpaste tube. The product's development is five years in the making.
The product classified as Smile for Good uses high-density polyethylene (HDPE), classified as recyclable by the Australasian Recycling Label Program of the Australian Packaging Covenant Organisation (APCO). So next time you can throw your toothpaste tube in the recycling bin.
"Making toothpaste tubes part of the circular economy will help keep plastic productive and eliminate waste."

Simon Petersen, GM at Colgate-Palmolive South Pacific
Colgate Smile for Good tube's HDPE material is based on the same plastic that companies used to make 2L milk bottles and other plastic containers that are recyclable. Initially, Colgate thought that they could use a commonly recycled type of plastic called a "high-density polyethylene" (HDPE) for the new tube, but it discovered that it's not squeezable enough for toothpaste.
Then its engineers developed a solution using different grades and thicknesses of HDPE laminated into a tube to make it squeezable since the type of plastic used on milk bottles is too rigid.
Most toothpaste tubes are usually made from sheets of plastic laminate with a thin layer of aluminium. These are difficult to recycle through conventional methods leading to generation of waste.
Colgate-Palmolive (CL), which owns the Colgate brand, is on a mission to make all of their products fully recyclable by 2025(1). The toothpaste brand is also supporting the UN Sustainable Development Goals and the Ellen MacArthur Foundation's New Plastics Economy Global Commitment.
Colgate is also sharing its recyclable tube technology with tube makers and competitors to support a shift to recyclable tubes that meet regional recycling standards for toothpaste and other products.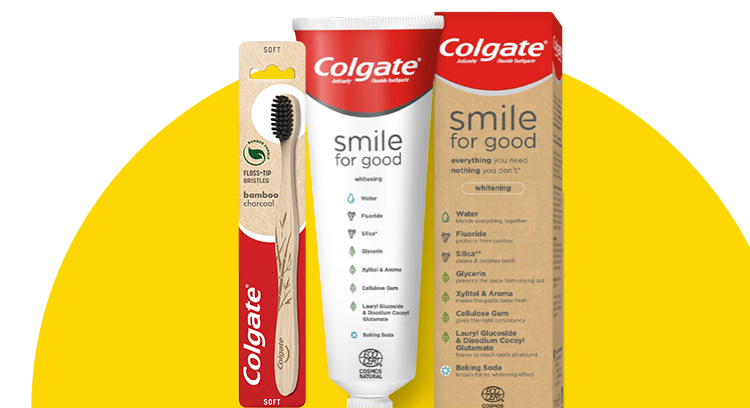 Colgate Smile for Good
Colgate Smile for good is its first natural and organic toothpaste, packaged in a recyclable tube and carton and formulated with minimal, natural ingredients. Colgate has revealed two variations of the toothpaste — Smile for Good Protection and Smile for Good Whitening.
This protective eco toothpaste is suitable for vegans and is formulated with 99.7% of ingredients from natural origin that provide optimal everyday protection.
Advantages:
1st recyclable toothpaste tube assessed by Recyclass
Vegan
Recyclable carton
99.7% natural origin ingredients

Minimal number of ingredients for an optimal everyday protection

Certified by the Vegan Society, EcoCert/Cosmos Natural and FSC
Ingredients:
Glycerin, Aqua, Hydrated Silica, Xylitol, Lauryl Glucoside, Cellulose Gum, Disodium Cocoyl Glutamate, Aroma, Sodium Fluoride
The product and/or packaging have been certified by Ecocert, the Forest Stewardship Council (FSC), and the United Kingdom's Vegan Society.