Different types of mangoes in India | Check out the India's Mango Map
Mango is one of the world's most important and widely produced tropical fruits. Mango trees are native to southern Asia, particularly Myanmar and India's Assam state, and various cultivars have been developed. Vitamins A, C, and D are abundant in mangoes. There are almost 1500 varieties of mangoes cultivated in India. It is often called as the 'king' of fruits and it is famous for its juicy structure and unique color. Let us discuss about different types of mangoes in India:
1.Totapuri
This mango type has a mild flavor and a greenish color that resembles the beak of a parrot. The flesh of this kind, which hails from Karnataka, Andhra Pradesh, and Telangana, is not as sweet as other species, but it's ideal for salads and pickles. It season starts from June to July. It usually has a thick skin.
2. Kesar
It is is one of the most expensive types and the color of its pulp is similar to saffron, the spice after which it is named. It is primarily grown in the Ahmedabad and Gujarat areas. It features a curved tip and a roundish form. Its most distinguishing feature is that it smells like kesar. Its season also starts from June to July.
3. Neelam
The Neelam mango is a popular in Hyderabad and is grown mostly in Tamil Nadu, Karnataka, and Andhra Pradesh. They have a beautiful scent and are accessible all year. The tastiest production is found during the monsoon season. Its season is mainly from May to June. The taste is mixture of sour and sweet. They are small in size compared to other mangoes.
4. Langra
Langra is a well-known mango variety that hails from Varanasi, Uttar Pradesh. Because it was first cultivated in the farmlands of a man without legs, hence it was given the name Langra. It is available from July to August. It has an oval form and is green in color, even when ripe.
5. Malda
Malda, popularly known as the 'King of Mangoes' in Bihar, is fibrous-free, making it a suitable choice for chutneys. It has a sweet-sour flavor and is pulpy and tasty. It has a sweet aroma and a thinner cover than other types of mangoes.
Zero Waste Home and 10 tips to achieve it

Read
6. Malgova
Malgova, also known as Malgoa, is a round mango that is green with yellow hues. It has a roundish-oblique form, light yellow pulp, and is available usually in May and June. It usually weighs around 300-500 grams. It is a popular mango variety grown mostly in Tamil Nadu and Karnataka, as well as other parts of South India. This mango variety is regarded as one of the best.
7. Himsagar
This variety is native to West Bengal and Orissa, and it has a sweet aroma. It is This medium-sized and has creamy flesh that is good for desserts and shakes and weighs between 250 and 350 grams. They have a golden pulp with a greenish color. This type has the shortest growing season of all, starting in May or June. Its shape is ovate.
8. Alphonso/Hapus
The Alphonso mango is unlike any other mango and is known as the "King of Mangoes." It is native to Maharashtra, however it can also be found in Gujarat, Karnataka, and Madhya Pradesh. Because of its particular taste, color, and shape, it is the most expensive one. It is also fiber less. Season is from May to June.
9. Sindura
This variety is sweet, but there is a small tanginess to it, as well as an aroma. Th e pulp has a good yellow color and it's ideal for making shakes. It has a distinct appearance, with a red color on the skin and yellow sweet flesh. Because of its extraordinary sweetness and flavor, it is also known as Honey Mango.
10. Banganapalli / Safedi
This mango type is grown in Banaganapalle, Kurnool district, Andhra Pradesh, and is significantly larger than its Alphonso counterparts. They are oval in shape, have smooth skin, and are roughly 14 cm in length, and have a pleasant aroma. It's oval in shape, light yellowish in color, and has a few spots on top of it. The skin is also edible and its season extends from April to June. It is usually lighter than other varieties.
11. Payri
The mango Payri, like the Banganapalli, marks the start of the mango season. This mango is native to Karnataka, Maharashtra, and Kerela. It has a season that lasts from April to June. It is yellow in color with a reddish tinge on the skin and oval in shape. It also has a short shelf life.
12. Chausa
This type was introduced by Sher Shah Suri during his rule in the sixteenth century and is popular in North India and Bihar. This type, named after a village in Bihar, is distinguished for its exceptionally delicious pulp and bright yellow peel. It is distinguished by its golden yellow color. From July to August, it is in season. It's really sweet and has a pleasant scent. Its shape is ovate.
13. Raspuri
This variety is known as the Queen of Mangoes in India since it is widely grown and consumed in Old Mysuru, Karnataka. It will arrive in May and will be ready by the end of June. It's finest eaten as yoghurt, smoothie, or jam. They are oval in shape and range in length from 4 to 6 inches.
14. Badami
Badami is the most popular mango variety in Karnataka, and it's best eaten between April and July. This variety, which is generally known as the Alphonso of Karnataka state, is jam-packed with nutrients and has a very thin skin. This variety's skin is a beautiful golden yellow with a red tinge that runs over the top of the fruit.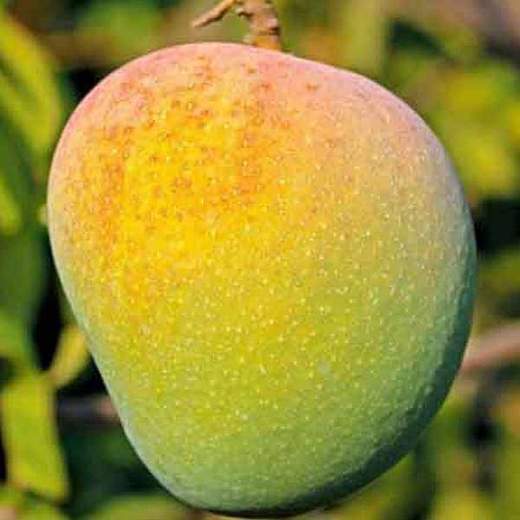 The Mango Map of India