Eco-Conscious Label – Trazenie launches its Shambhala Collection
Our Eco-Conscious Label – Trazenie launches its "Shambhala Collection". The Shambhala collection is a celebration of all things whimsical, nostalgic, and fantastical. The first aim: is to simply astound the new design, finishing, and tailoring of RTW. The method for doing so: nativist and, at least initially, totally unconcerned with the borders between epochs, genres, cultures, and conventions.
Each piece is uniquely designed to bring out the inner "Apsara", whether you're looking for playful nostalgia or eclectic luxe. With vibrant colors and luxurious fabrics, the Shambhala collection promises to dazzle and enchant you. Its playful prints, florals, flowy fabrics, and exquisite color blocking are an ethereal combination for summer and springtime soirees and events. These fresh and romantic statement pieces are curated for Gen-Z and the younger generation.
REFRESHING | COMFORTABLE | CHIC – The brand's uncompromising attention to detail and authenticity creates a lasting impression in the minds of customers.
SHAMBHALA is a vibrant collection that is the epitome of spring and summer ease. The collection represents movement and effortlessly chic style. A destination-worthy capsule for this Summer. Overall TRAZENIE, as a label, aims to break the way for fundamentally new fashion, not as hype, but coherent across its aesthetic, production, and campaigning.
Timeless silhouettes are re-interpreted within the context of modern life, with expert craftsmanship and attention to detail resulting in ready-to-wear collections for women that are designed to last. Stand-out color blocking, sculptural shapes, modern, distinctive cuts, and her innovative use of fabrics and unerring attention to detail make up what are now Trazenie's signature ready-to-wear and accessories.
Sophisticated, feminine, playful, and effortless, their iconic collections are instantly recognizable to the burgeoning community of women who enjoy them for their contemporary, distinct impact and enduring appeal.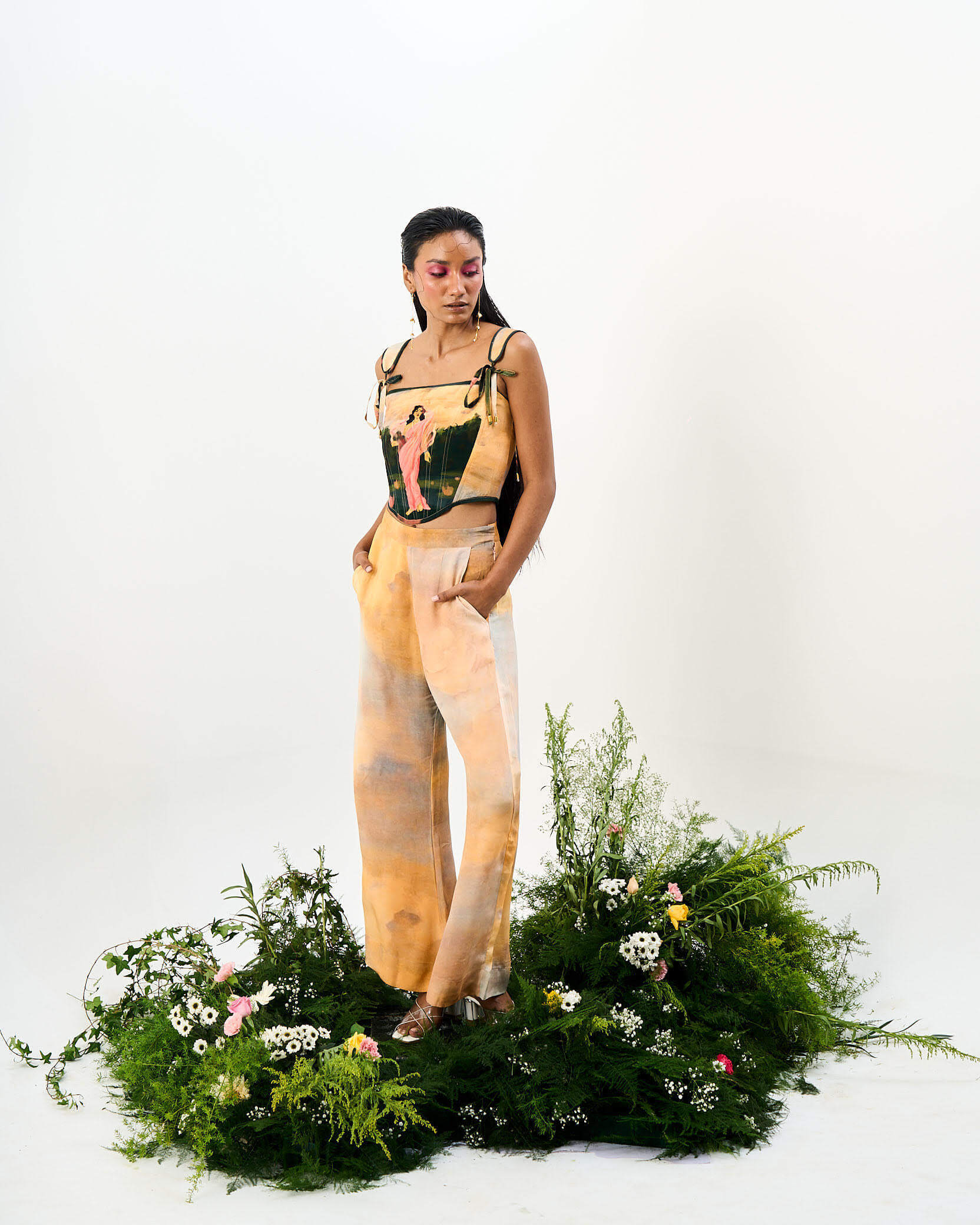 I am thrilled to share the success of our runway showcase at the Bombay Times Fashion Week '23. It was a magical confluence of fashion and dance, with garments adorned in captivating prints that exuded vibrancy and movement. The designs are carefully curated to reflect the spirit of dance, evoking a sense of joy and energy that leaves everyone in awe. From flowing dresses to dynamic co-ords, each ensemble is a masterpiece of innovative designs and meticulous craftsmanship. We have adopted an unapologetic, more-is-more aesthetic and an affordable price meant to appeal to the under-20 customers. With a dedication to refining shape, texture, and details into a sense of empowered femininity by creating garments that allow women to feel confident and at ease.

Prthivi, Founder and Designer
About Trazenie
In our spirit, we believe in creation and self-expression. We believe it is integral to the human spirit. It is the catalyst for innovation and growth. It is the very paradigm that drives us and helps us see beyond the fabric of reality. It gives life to our imagination and is a gateway to the future.
Humans have been living beyond the constraints of the present for eons through the tales we tell and the things we create. We at Trazenie only aim to do justice to that innate need to create and tell stories. To express. We truly hope that we are part of your tale of self-expression. 
Trazenie proudly crafts one-of-a-kind, zero-waste & small-batch clothing, beauty & accessories founded on our values of authenticity, respect & beauty.