Celebrate Diwali with Green-Crackers
This Diwali, which falls on November 14, 2020 is likely to be India's first green Diwali. Manufacturers in Sivakasi – the country's fireworks manufacturing capital – have produced environmentally friendly fireworks as per Supreme Court order on 'green' crackers. As per news reports, 60 per cent to 80 per cent of the crackers that go out of their factories to the market this season will carry the green cracker tag.
On October 5th, 2019 Dr. Harsh Vardhan, Union Minister for Science & Technology, Earth Sciences and Health and Family Welfare – launched eco-friendly in a bid to curb levels of pollution. The Health Minister displayed some of these new types of crackers including flower pots, pencils, sparklers and chakkar.
What are Green Crackers ?
The green fire-cracker are eco-friendly fire-crackers that have been developed keeping in mind the pollution hazard and health risks, which the regular firecrackers pose. These are advertised as eco-friendly alternatives to regular fire-crackers and will help in celebrating diwali in eco-friendly manner.

A 'Green' fire-cracker has a small shell size as compared to traditional cracker and is produced using less harmful raw materials. When exploded, these fireworks release water vapour and don't allow the dust particles to rise. They are designed to have 30% less particulate matter pollution.

How are Green Crackers better than regular fire-works ?
Eco-friendly fireworks are "less harmful" to the environment, with about 15 to 30 per cent less emission than regular crackers. Additionally, the emitted sound has also been reduced from 160 decibels to 125 decibels.


How are green crackers made ?
The Council of Scientific and Industrial Research (CSIR) in collaboration with the National Environmental Engineering Research Institute (NEERI) has been at the forefront of eco-friendly fireworks research. CSIR-NEERI has developed new formulations that are chemically different from traditional ones & have lower aluminium, barium, potassium nitrate and carbon content. As a result, it has developed reduced emission light and sound emitting crackers, with 30% reduction in particulate matter.

Over 380 factories attached to the most-influential Tamil Nadu Fireworks and Amorces Manufacturers Association (TANFAMA) have tied-up with the NEERI for manufacturing less-emission crackers.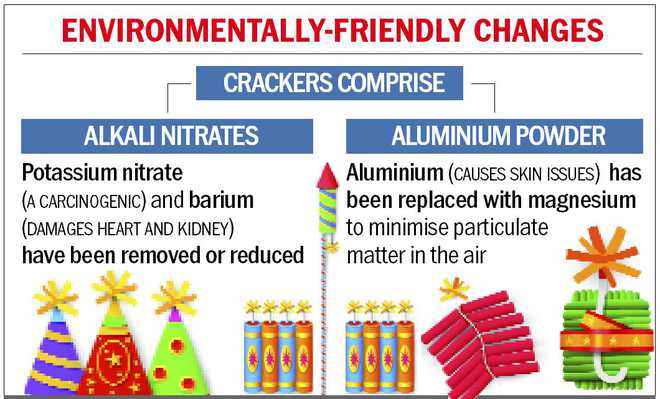 How to identify green fire-crackers ?
Quick Response (QR) codes on the packages will help consumers scan and identify counterfeits. A green logo as well as a Quick Response (QR) coding system has been developed for differentiation of these eco-friendly fire-crackers from conventional crackers.  QR codes is a novel feature incorporated on the fire crackers to avoid manufacture and sale of counterfeit products. This will also help the consumers to track the cracker using smart phones and other devices.


How much will the green fire-crackers cost ?
The cost of the new green fire-cracker is stated to be either equal to the normal fire-cracker. However, according to reports, the green fireworks may cost about 20% more than traditional crackers.


What are the different green fire-crackers available in market ?
CSIR-NEERI has developed three types of green firecrackers namely — Safe Water Releaser (SWAS), Safe Thermite Cracker (STAR) and Safe Minimal Aluminium (SAFAL). On 5th October 2019, Dr Harsh Vardhan also displayed samples of sound emitting crackers, flowerpots, pencils, chakkar and sparklers. However, as per a report, only 'anar', 'phuljhadi' and 'sky-shot' are available in the market.