GOI launches Tribal Health Collaborative 'Anamaya'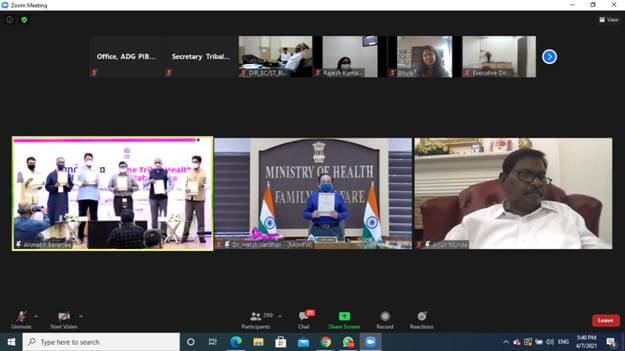 On 7th April 2021, Union Minister for Health and Family Welfare, Dr. Harsh Vardhan along with Union Minister of Tribal Affairs, Shri Arjun Munda launched a Tribal Health Collaborative named 'Anamaya' through video conference.
The Health Collaborative is a multi-stakeholder initiative of Tribal Affairs Ministry supported by Piramal Foundation and Bill and Melinda Gates Foundation (BMGF). It will converge efforts of various Government agencies and organisations to enhance the health and nutrition status of the tribal communities of India.
Anamaya aims to build a sustainable, high-performing health eco-system to address the key health challenges faced by the tribal population of India. It will begin its operations with 50 tribal, Aspirational Districts (with more than 20% ST population) across 6 high tribal population states. Over a 10-year period, the work of the THC will be extended to 177 tribal Districts as recognised by the Ministry of Tribal Affairs.
Dr Harsh Vardhan lauded the efforts of the Ministry of Tribal Affairs, saying "The launch of the Tribal Health Collaborative 'Anamaya' is like a dream from me. Health is an area where every Ministry can contribute. We all know that the tribal areas are our real deprived areas. Not just primary healthcare but through our various schemes we are trying to provide secondary and tertiary healthcare to the most marginalized people. My only appeal to this Collaborative is that, in addition to all the other mentioned areas, please focus on TB so that we can reach our goal of a TB Free India"
Expressing his elation at the launch of the Tribal Health Collaborative 'Anamaya', Shri Arjun Munda stated, "The Ministry of Tribal Affairs has been working relentlessly to address the health challenges of the tribal communities, engaging with State Governments, civil society organisations and other stake-holders."
He also observed that "as part of this Collaborative, the Ministry will undertake several activities such as: setting up of the National Council on Tribal Health to drive policy initiatives in tribal health; establishment of a Health Cell to closely monitor healthcare delivery in the tribal areas, devising mechanisms to implement the Tribal Health Action Plan and so on."
Shri R Subrahmanyam Secretary, Ministry of Tribal Affairs in his address said,  "A 'Tribal Health Cell' is being set up in Ministry of Tribal Affairs. Health care facilities in tribal areas are very scarce and the health standards of tribals are below normal level. All welfare measures should reach up to grass root level."