How to choose Better Clothing Alternatives to Fast Fashion?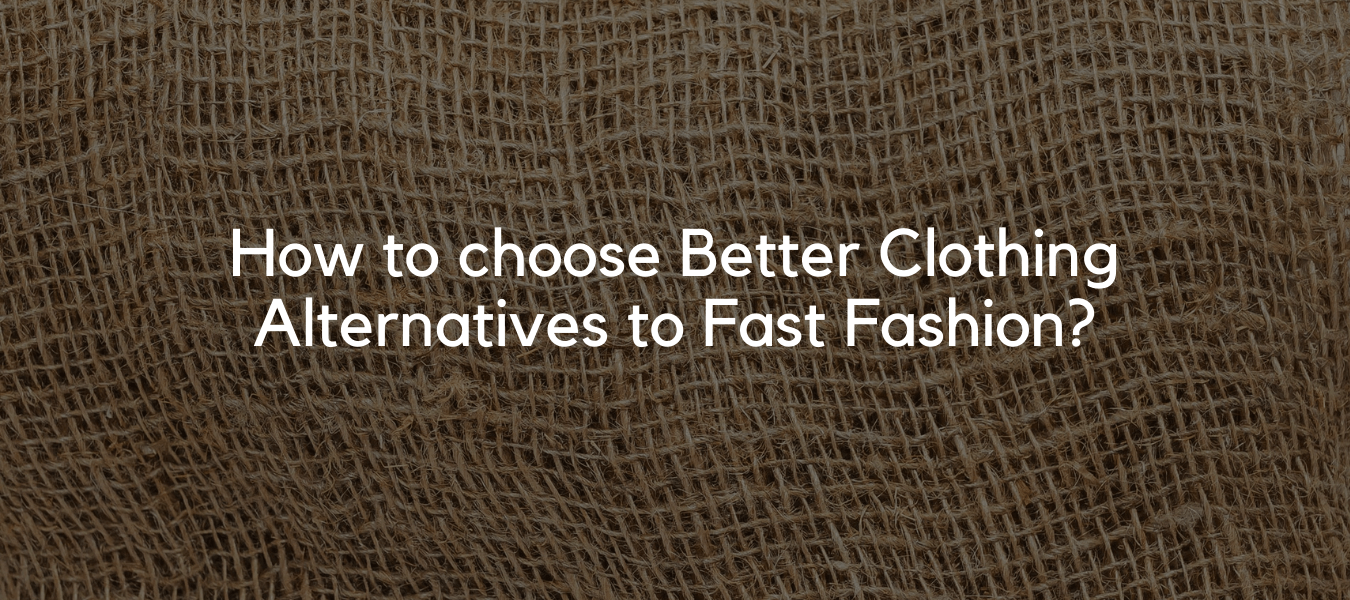 In the recent few years, there has been huge outcry over Fast Fashion for reasons ranging from labour abuse, pollution to encouraging overconsumption. This has led to many consumers exploring alternatives to Fast Fashion.
As rightly said by Ms. Orsola de Castro, "The most sustainable garment is the one already in your wardrobe", utilizing clothes that you already have to the fullest is the best alternative to Fast Fashion. There are multiple other ways like thrifting, swapping, renting which let you enjoy different clothes without buying new ones. These options not only give clothes an extra life but are also better for the planet.
But every time it is not possible to thrift or swap. When making a new purchase opt for a sustainable piece of clothing. There are various aspects of sustainability in fashion and as a consumer try to purchase clothing which ticks at least one of these aspects.
Sustainable Fabrics
Sustainable fabrics are ones which do not impact the environment negatively during their production, use and disposal stages. Polyester, which comprises 55% of all textile manufacturing, is non-biodegradable whereas Cotton agriculture consumes a lot of water and pesticides. Fabrics like Silk, Wool and leather and there is a degree of animal cruelty involved in these fabrics.
Opt for fabrics like Linen, Lyocell, Hemp or Organic cotton which don't have a negative environmental impact while production, usage as well as disposal. Additionally, these fabrics are good for the skin as well.
Support for Handmade & Indigenous crafts
Due to mechanization most of the clothing made today is made in mass which has slashed the cost of clothing significantly. Many artisans who were dependent on hand made clothing saw their livelihoods at risk due machine-made clothing.
India has a diverse set of textile prints and weaves like Ajrakh, Ikkat, Kalamkari, Chikankari, Bandhani, Kantha to name a few. Khadi is a handspun and handwoven fabric needs no introduction. Opting for clothing made from by such artisans will go a long way in making their livelihoods more sustainable.

Natural Dyeing
Textile industry is one of the most polluting industries. The usage of dyes and chemicals has led to pollution of many water bodies. Poor quality of dyes can be carcinogenic as well.
On the other hand, natural dyes are extracted from natural sources like marigold flowers, madder roots, indigo, pomegranate, mulberry plant. Not only are these dyes better for the environment, they are also better for our skin.
Labour Welfare
One of the main reasons that clothing has not become very costly over the years is the meagre wages of garment workers. These workers are underpaid, have bad working conditions and unfavourable laws. Fast Fashion brands have set up garmenting units in South-East Asian countries like Bangladesh, Cambodia, Vietnam and India garments are made at dirt-cheap costs. Opt for brands that ensure fair wages for the workers.

Other aspects
In addition to the points mentioned above there are other aspects that you should keep in mind while buying a new garment. Indians have been following these aspects for centuries, some of the age-old Indian practices are inherently sustainable.
Durability of the clothing should always be considered before purchase -how long would you see yourself using it as well as how long would it last. Clothing utilisation over the years has significantly reduced and one of the reasons for that is lack of quality clothing. Choosing timeless and versatile garments will also go long in building a sustainable wardrobe.
Shop from local and smaller brands who produce in smaller batches.
"As consumers we have so much power to change the world by just being careful in what we buy"

Emma Watson
True to this quote, the next time we are looking to buy clothes, be careful about our choices because our choices can make a difference.
About the Author
Varun is co-founder of Earthy Route, an online conscious clothing brand, which uses sustainable fabrics like Lyocell and Linen in all their collections.