Hydrogen as Energy Source in India
Union Finance Minister Nirmala Sitharaman, in her budget 2021 speech announced that India will launch its National Hydrogen Energy Mission (NHEM) in 2021-22. Previously, PM Modi had mentioned regarding India's plans to launch the NHEM, while speaking at the 3rd RE-Invest Conference PM Modi in November 2020. Let's have a look at Hydrogen as Energy Source in India.
Hydrogen as Energy Source
Being a zero-carbon fuel, hydrogen is considered to be one of the key sources of clean energy for the future.
Hydrogen can be produced from various sources like natural gas, nuclear power, biomass, and renewable power like solar and wind. Presently, the most common methods used are natural gas reforming and electrolysis (splitting water with electricity).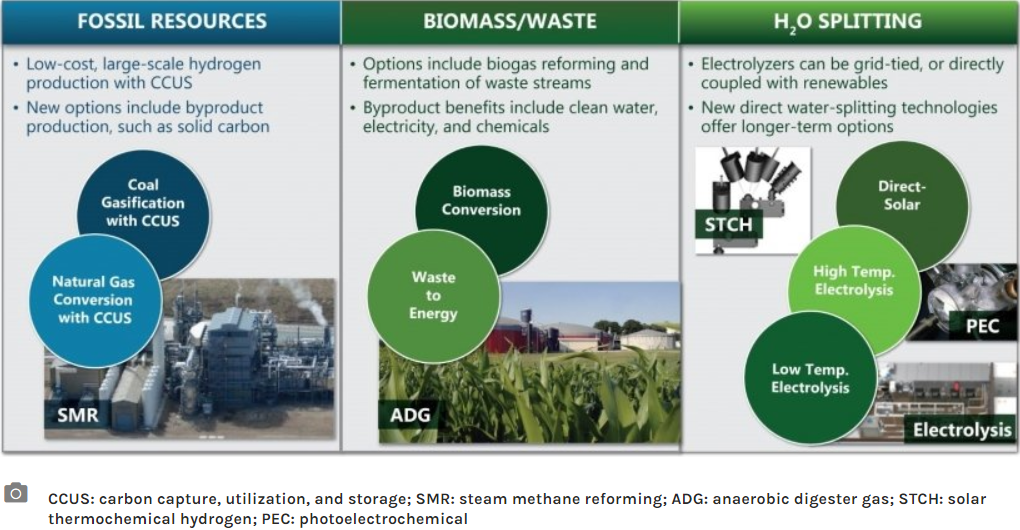 Hydrogen has almost three times the energy density (120 mega joules/kg) as compared to diesel or even gasoline. 
MNRE Support
MNRE has been supporting a broad based Research Development and Demonstration (R&D) programme on Hydrogen Energy and Fuel to various industries, academic and research institutions.
The ministry has been supporting various type of projects including projects involving production of hydrogen from renewable energy sources, its safe and efficient storage, and its utilization for energy an transport applications.
MNRE has been supported to Banaras Hindu University, IIT Delhi, and Mahindra & Mahindra to develop hydrogen as a fuel for transport. Consequently, internal combustion engines running on hydrogen fuel have been developed for two wheelers, three wheelers, and mini buses.
Additionally, two hydrogen refuelling stations have been established – one each at Indian Oil R&D Centre, Faridabad and National Institute of Solar Energy, Gurugram.
For the current financial year, MNRE has been allotted Rs 25 crore for research and development (R&D) in hydrogen.
Hydrogen as Fuel in India
India plans to build green hydrogen plants that will run on electricity produced by green energy sources and help reduce dependence on fossil fuels for mobility
In October last year, Delhi became the first city in India to operate buses with hydrogen-enriched CNG (HCNG). Several companies like Indian Oil Corporation and NTPC are working towards operating more hydrogen-run buses in the country.
NTPC is working on a pilot project to run 10 Hydrogen Fuel Cell (FC) based electric buses and several Hydrogen Fuel Cell-based electric cars in Leh and Delhi.