IIP sets up plant to convert plastic waste into diesel
Union Minister of Science and Technology and Earth Sciences Harsh Vardhan on August 28, 2019, inaugurated a demonstration plant for converting plastic waste to diesel at the Indian Institute of Petroleum (IIP) of Council of Scientific and Industrial Research in Dehradun, Uttarakhand.
The IIP team of researchers had been working on the project worth Rs 15 crore for the past 10 years. Presently, the plant can convert one tonne of plastic waste into 800 litres of diesel every day. The team iw working to raise the capacity to 10 tonne, which would bring down the diesel making cost.
According to experts, upgrading the present 1 tonne plant to 10 tonne plant would require around Rs 35 crore. However, the upgradation will increase the diesel production and bring down the cost of the fuel. While the approximate making cost of one litre of diesel presently ranges between Rs 80 and Rs 90, it will come down to Rs 50 per litre once the project is updated to 10 tonne per day.
The diesel produced is of automotive grade. It meets the specifications for use in vehicles. GAIL (India) has sponsored the technology development and provided technical support for the endeavour. IIP and GAIL have planned to roll out the technology nation-wide after six months of operation of the pilot plant.
Using the technology, polyolefinic waste can be converted into diesel. This type of waste accounts for about 70 per cent of total plastic waste in the country and is the least bio-degradable. The process is also environmentally friendly. IIP has also partnered with local NGO GATI Foundation who has worked with communities, commercial entities and rag pickers to develop an effective waste plastic supply chain.
"Throughout the country we are running a campaign led by PM Narendra Modi to end the dependence and use of plastic made products and polythene bags as they are not good for humans, animals and the nature. This technology is a major step in the Beat the Plastic campaign."

Dr. Harsh Vardhan
Dr. Vardhan applauded scientists involved in developing the technology and noted that in 2018, he had witnessed the landing of a commercial flight with bio-jet fuel developed by IIP researchers. Of the two engines of the aircraft, one had the bio-jet fuel to an extent of 25 per cent.
Sanat Kumar, senior scientist in-charge of the project at IIP Dehradun explained the process to convert plastic waste into diesel. He said "What we have done here is that we have broken large plastic molecules also called polymers into small molecules by heating plastic in absence of air, so that it doesn't burn. This is called pyrolysis. Then we experimented with these small molecules with different catalysts. And finally, after many trials and errors, we succeeded in finding the right combination of catalysts that help in turning these molecules into hydrocarbons like diesel and petrol. Once catalysts do their job, we set it for condensation, a process that helps us in getting the final products in liquid form, which is gasoline or diesel or aromatics".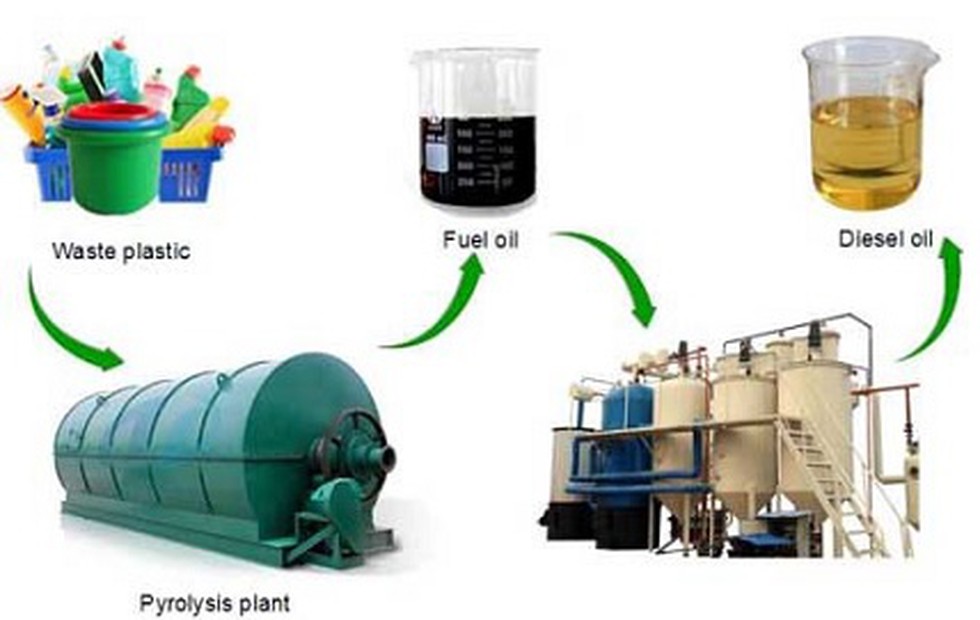 Kumar added depending on the choice of the catalysts used in the process, they have three options. "From one kilogram of waste plastic, we can either produce 850 ml of diesel or 700 ml of petrol or 500 ml of aromatic products. And we have scaled up this technology for the first time for processing nearly one tonne of plastic waste at our pilot plant here on the campus".
On the significance of the pilot plant, Kumar said, "It is the first such plant set up by a government research institute in the country. For the next eight to nine months, we will study the functioning of the plant and analyse data, following which we will be in a position to transfer the technology to the industry and the government. The government can use this technology to set up such plants in the municipal areas to deal with the problems of hazardous waste plastic. The potential for this technology is huge. The diesel produced can be used across the automobile industry, by farmers for powering generators and tractors and so on",