IOCL-Phinergy form JV for Aluminium-Air Battery Technology Systems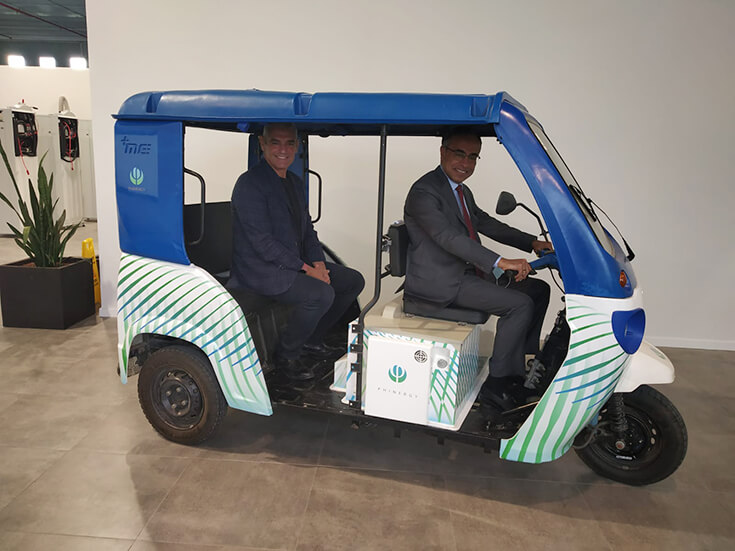 State-owned Indian Oil Corporation Ltd. (IOCL) has entered into a joint venture with Israel-based battery technology startup Phinergy to develop aluminium-air battery technology systems for electric vehicles and stationary storage, as well as hydrogen storage solutions.
IOC Phinergy Private Limited.
The collaboration will manufacture Aluminum-Air systems in India to boost the "Make in India" programme and recycle used Aluminum to strengthen India's energy security.
While there have not been many official updates on the partnership, a recent meeting between the Indian Ambassador to Israel, Sanjeev Kumar Singla reviewed the progress on the MoU signed by IOCL and Phinergy.
An update on this front is that the partners have announced that they have been progressing well and in fact, have onboarded Mahindra Electric to test out the metal-air batteries. IOCL has helped to develop the e-mobility product by Phinergy for Mahindra Electric.
Additionally, as per the NEWS in IndianExpress, Maruti Suzuki, Ashok Leyland & several other top automakers signed letters of intent with the newly formed joint venture to commercially deploy the battery solutions produced by IOC Phinergy Private Limited.
"The joint venture will facilitate will help India in its journey towards clean, sustainable, affordable, safe, and long-lasting energy options and facilitate much faster adoption of e-vehicles in the country," said Union Min Dharmendra Pradhan after the collaboration.
The minister further said that the Aluminum-Air systems in India will help the country in becoming "Aatmanirbhar" for energy requirements.
What is an aluminium-air battery?
Aluminium-air battery is said to be a lower cost and more energy-dense alternative to lithium-ion battery which is currently in widespread use for electric vehicles in India. Aluminium-air batteries utilise oxygen in the air which reacts with an aluminium hydroxide solution to oxidise the aluminium and produce electricity.
One of the key downsides of aluminium-air batteries is that they cannot be recharged like lithium-ion batteries. Therefore, large scale use of aluminium-air battery based vehicles would require the wide availability of battery swapping stations.
Aluminium-air battery-based electric vehicles are, however, expected to offer much greater range of 400 km or more per battery compared to lithium-ion batteries which currently offer a range of 150-200 kilometres per full charge.
Experts have noted that the aluminium plate in an aluminium-air battery is converted into aluminium trihydroxide over time and that aluminium can be reclaimed from aluminium trihydroxide or even traded directly for industrial uses.
The metal-air batteries are said to match the performance of traditional fuel, can be refilled in just 5 minutes, require light-infrastructure, are weather-proof and most importantly lower the cost of EVs.
About Phinergy
Phinergy is an Israeli clean energy company developing metal-air technology, turning metals namely – aluminum and zinc – into a new way to store, transport and generate clean and safe energy.