'Jaivik kheti Portal' Initiative by GoI
Jaivik Kheti Portal is a unique initiative of Ministry of Agriculture (MoA), Department of Agriculture (DAC) and MSTC to promote organic farming globally.
Jaivik kheti portal is an E-commerce platform as well as a knowledge platform.
The portal links various stakeholders like regional councils, local groups, individual farmers, buyers, government agencies and input suppliers for the all-inclusive development and promotion of organic farming.
1. E-Commerce Section
It is a one stop solution for facilitating organic farmers to sell their organic produce and promoting organic farming and its benefits. E-commerce section of the portal provides the whole bouquet of organic products ranging from grains, pulses, fruits and vegetables.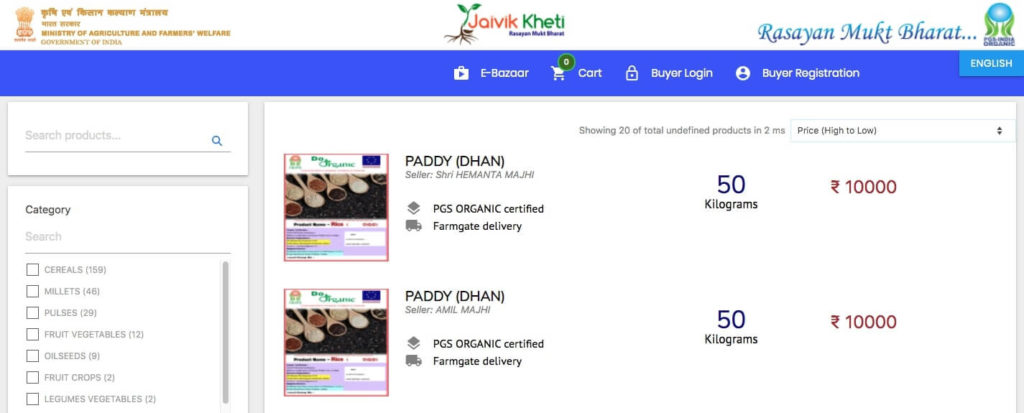 As of January 2021, the portal has about 357068 registered farmers, 10918 local groups, selling 242 organic products to about 7431 registered buyers. The products sold on the Jaivik Kheti Portal are PGS India Organic certified.
The portal also provides price discovery mechanisms to help farmers get the best prices for their products through forward auction, price-quantity bidding, book building and reverse auction mechanisms.
2. Input Supplier Information
The portal also has input supplier section where about 75 input suppliers for growing organic products are registered. Users can see state-wise list of registered input suppliers.
3. Knowledge Management Section
The Knowledge repository section of the portal includes case studies, videos, and best farming practices, success stories and other material related to organic farming.
Find Videos Related to Organic Farming
Download Manuals & Guides Related to Organic Farming
The Jaivik Kheti portal also has reference material, manuals and guidebooks to help user learn about the concept of organic farming.