Clay Diyas
The Clay diyas are traditionally made using potter's wheel by artisan folks around the country. The potters effortlessly create various shapes and sizes of diyas within few minutes by throwing the kneaded clay on the potter's wheel. Making of clay diyas or any clay artefacts follows three major steps: that are moulding, drying and painting. Depending on the clay type the preferred diyas are made. Before removing the moulded diyas from the wheel, many patterns and designs are made using design files. Then the articles are dried and fired in kiln.
Clay Diyas by KVIC
On 8th October 2020, the Khadi & Village Industries Commission (KVIC), Government of India launched online sale of Diyas through its e-portal and in less than a month, nearly 10,000 Diyas have already been sold online. The sale of Diyas is further rising with Diwali inching closer. Following this, KVIC launched new sets of designer Diyas that are also in huge demand.  KVIC has launched 8 types of designer Diyas that are priced nominally between Rs. 84 and Rs. 108 for a set of 12 pieces. KVIC is also offering a discount of 10% on these Diyas. 
Notably, KVIC has also trained these potters and provided them with electric potter wheels and other equipment under Kumhar Sashaktikaran Yojana that has increased their production and income by up to 5 times. So far, KVIC has distributed over 18,000 electric potter wheels benefitting over 80,000 people of the Kumhar community.
KVIC Porter Diya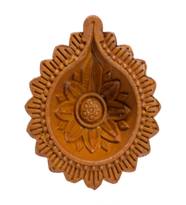 KVIC Porter Diya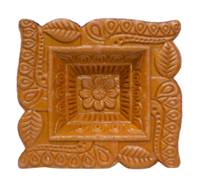 KVIC Porter Diya
Note: Khadi India is a trademark owned by KVIC, GoI and Prakati India has only published this information for spreading awareness & providing information regarding the initiative. Prakati India is neither related nor intends to show any relation to Khadi India. Our aim is to spread information regarding sustainable initiatives in India.
Images used have been sourced from Government Portal & displayed here only for visual representation. Prakati is not engaged in sale/trade of Khadi India masks. The buy button takes you (user) directly to KVIC website. Our aim is to improve KVIC visibility & spread awareness regarding the initiative. Everything related to Khadi India is property of KVIC.