Project Gulzar by Enactus Sri Venkateswara College
Project Gulzar has been initiated to address the issue of excessive floral and paper waste generation in India by utilizing them to create products.
Do you remember the last time you offered flowers at the temple or used them for decoration? Have you ever pondered about what happened to them after you had used them? Were they reused or were they disposed of recklessly? Floral waste is one of the most unnoticed and overlooked waste that is straining the environment. India being a culturally rich country values and inculcates flowers as a symbol of auspiciousness and piousness in almost every tradition and occasion, thus generating a lot of floral waste. Every year approximately 8 million tons of floral waste is dumped into water bodies posing a huge threat to marine life.
But floral waste is not the only waste that is being neglected. Another seemingly unnoticed waste that is generated in exceedingly large amounts is paper waste. India alone generates 4 million tonnes of paper waste every year, which gets dumped into landfills and burned eventually. Burning of paper has a huge environmental impact, as paper is not just wood but also a result of bleach and various other chemicals which get released upon burning, making the air extremely toxic.
Project Gulzar
Having identified these problems, Enactus SVC in 2021 introduced Project Gulzar which not only helps in minimising waste generated but also empowers underprivileged women by providing them easy employment opportunities ensuring a reliable source of income with no health risks involved since all the business operations take place in the vicinity of their locality.
But how is all of this done?
Under Project Gulzar, we provide 2 product ranges.
The Plantable Range
The Non-Plantable Range
The Plantable Range
Tons of paper waste generated every year in India contributes immensely to the overflowing landfills. With this parallel we focus on recycling waste paper into seed paper products while sourcing it from scrap dealers.
Our plantable range of products consists of bookmarks, greeting cards and envelopes. These are made using handmade seed-paper and organic, chemical-free flower dyes. Shortly after they are planted in soil and watered, they grow into plants.
The Non-Plantable Range:
Flowers add to floral waste that ultimately gets dumped into rivers and other water bodies, choking and polluting them which affects marine life and influences the global climate by increasing carbon footprint.
Our non-plantable range includes a set of scented candles, wherein floral waste is used to provide colour, fragrance or aesthetics. We use organic bee wax and soy wax to make the candles.
We at Project Gulzar are constantly working on improving the quality of our products and providing the best and eco-friendly products to our buyers, while also ensuring that the products conform to the requirements of the target market. We look forward to expanding our non-plantable range by introducing new fragrances, styles and patterns.
The primary short term goal of Project Gulzar remains to increase the growth of our plantable range of products by setting up good and consistent distribution channels of our products, collaborating with local bookstores and companies, setting up stalls in book fairs and college fests to attract college students as our potential buyers.
All this would help us expand our business and increase the additional source of income for the underprivileged women (beneficiaries), who lost their jobs in the wake of the pandemic, ensuring their financial independence and social upliftment.
As a long-term goal, Project Gulazar aims to replace manual methods of production with advanced technology.
Our plan is to scale the project by introducing printing methods for seed paper products. Moreover, we hope to diversify the product line by adding visiting cards, calendars, and notebooks made with seed paper. Introducing seed paper to businesses and corporates as a zero-waste alternative to traditional paper packaging, is also on our list of sustainable packaging initiatives.
Gulzar managed to increase the income of the women beneficiaries by 12.5% during its first four months of operation in the year 2021 by its sales which is a reflection of sustainable and environmentally conscious choices of consumers in the market.
We have prevented 12.906 kg of CO2 emission into the environment while addressing four of the UN SDGs namely:
SDG 1- No poverty
SDG 8- Decent work and economic growth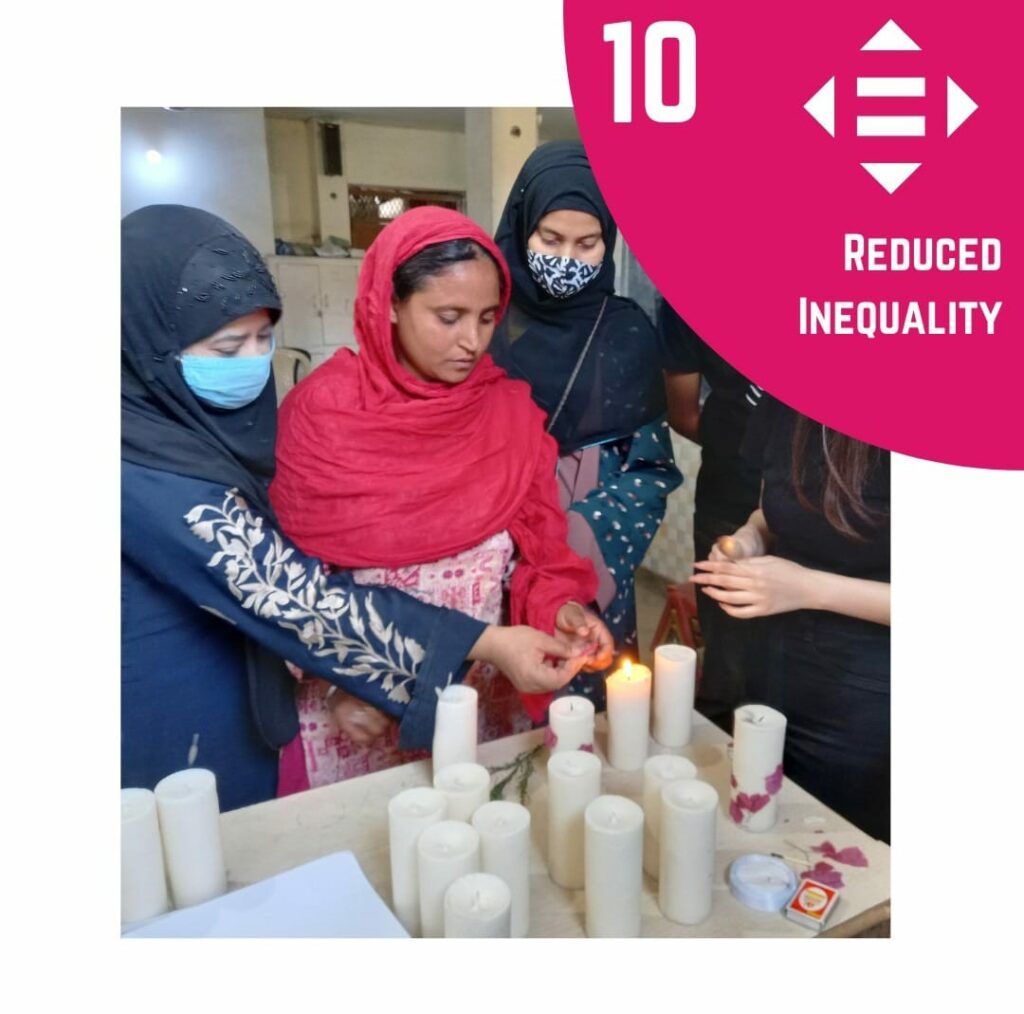 SDG 10- Reduced inequalities
SDG 12- Responsible consumption and production
By solving issues of poverty and worsening environmental conditions, we aim for a better India.
Enactus
Enactus is an international not-for-profit organisation that is resolute to empower people and improve livelihoods while developing the next generation of value-driven entrepreneurial leaders and social innovators. It provides a forum for over 70,000 young future leaders across 36 countries to create impactful programmes. Enactus students use the positive power of business and innovation to address the social issues affecting the world through diverse and fresh perspectives to create a better, more sustainable world.