Clay Store – Explore Eco Friendly Clay Products
Cooking with earthenware clay pots is an ancient tradition that offers a distinct taste and keeps the nutritional value of food intact. Apart from being gorgeous, cooking & serving food in clay utensils has some essential health benefits as well. Unlike other materials, clay products are porous, which helps in circulating heat throughout your food.
The porous nature of earthenware allows for slow and even cooking while retaining the natural juices in food. This causes the flavours of all the ingredients to slowly blend together to create fuller flavours and enhanced aroma. The clay pots help in making any food tender.
Clay cookware is safe for almost all types of cooking. You can use it to fry, bake, braise, grill, brown, and serve hot and cold foods. It can go from the refrigerator to the oven.
The heat-retaining capacity of a clay pot helps food stay hot longer. You can turn off the stove 5 minutes before your food is fully cooked and the residual heat will finish cooking. Clay also can keep food warm for several hours after you remove it from the stove.
Compared to red clay pot, the burned black clay pots are made using a very old traditional pottery technique. A normal red clay pot is kilned once, and are not exposed to naked flame.But deep burned pots are kilned two times, for the second time, potters literally burn the pots stacked together with wood and hay at a temperature nearly 1200 degree Celsius. The black clay pots attain black colour naturally during DEEP BURNING process due to temperature change in the kiln.
Buy Eco Friendly Clay Pot
---
---
Advantages of Using Clay Pot for Cooking:
Clay being alkaline in nature helps in neutralising the Ph balance of the food by interacting with the acid present in the food.
The steam in Clay Pot circulates throughout cooking provides plenty of moisture and eliminates the need for adding extra fats or liquids.
Cooking in Clay pots can also add Phosphorus, Iron, Magnesium and several other minerals to the food.
Learn More: Why should you use earthen cookware for cooking ?
Product Cautions:
Clay can break easily if you accidentally drop it. Also, sudden temperature extremes can cause clay pots to crack.
Clay pots may be difficult to handle, especially when they're hot.
As these are hand made products, shape and size may slightly vary.
Please do not add broth or cold water into an earthen pot that is already heated.
Do not use scratchy powdered cleaner for cleaning your earthenware.
To removed food items stuck to your unglazed earthenware, simply soak it in water without detergent.
Use scalding hot water and a stiff brush to clean the pot.
Baking soda or salt may be used as a cleanser with a scrub sponge.
Food Recipes You can in Clay Pots at Home
---
Clay Diyas:
The Clay diyas are traditionally made using potter's wheel by artisan folks around the country. The potters effortlessly create various shapes and sizes of diyas within few minutes by throwing the kneaded clay on the potter's wheel. Making of clay diyas or any clay artefacts follows three major steps: that are moulding, drying and painting. Depending on the clay type the preferred diyas are made. Before removing the moulded diyas from the wheel, many patterns and designs are made using design files. Then the articles are dried and fired in kiln.
Clay Diyas by KVIC
On 8th October 2020, the Khadi & Village Industries Commission (KVIC), Government of India launched online sale of Diyas through its e-portal and in less than a month, nearly 10,000 Diyas have already been sold online. The sale of Diyas is further rising with Diwali inching closer. Following this, KVIC launched new sets of designer Diyas that are also in huge demand. KVIC has launched 8 types of designer Diyas that are priced nominally between Rs. 84 and Rs. 108 for a set of 12 pieces. KVIC is also offering a discount of 10% on these Diyas.
Notably, KVIC has also trained these potters and provided them with electric potter wheels and other equipment under Kumhar Sashaktikaran Yojana that has increased their production and income by up to 5 times. So far, KVIC has distributed over 18,000 electric potter wheels benefitting over 80,000 people of the Kumhar community.
KVIC Porter Diya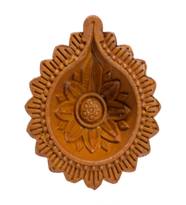 KVIC Porter Diya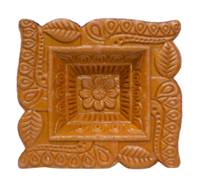 KVIC Porter Diya
Note: Khadi India is a trademark owned by KVIC, GoI and Prakati India has only published this information for spreading awareness & providing information regarding the initiative. Prakati India is neither related nor intends to show any relation to Khadi India. Our aim is to spread information regarding sustainable initiatives in India.
Images used have been sourced from Government Portal & displayed here only for visual representation. Prakati is not engaged in sale/trade of Khadi India masks. The buy button takes you (user) directly to KVIC website. Our aim is to improve KVIC visibility & spread awareness regarding the initiative. Everything related to Khadi India is property of KVIC.