TRIFED adds 75 new tribal products to Tribes India catalogue
To celebrate the occasion of 75 years of Independence, TRIFED, nodal agency under Ministry of Tribal Affairs, has added 75 new tribal products to Tribes India catalogue. Sourced from all across the country, the products launched exquisite and attractive items such as metal figurines, handmade jewelry, decorations such as hangings; handcrafted apparel such as shirts, kurtas, masks and also organic produce such as spices, processed juices and other herbal powders.
TRIFED GI Movement
TRIFED GI Movement has also identified 75 products of Tribal origin or source which will be registered for Geographical Indication (GI) Tag under the Geographical Indications of Goods (Registration and Protection) Act, 1999, India. Out of 75 identified GI Tribal products, 37 such products belong to eight states of North East. From Tribal heartland states, 7 products from Jharkhand and 6 products from Madhya Pradesh have also been identified for GI Tagging.
Atmanirbhar Bharat corner
Moreover, TRIFED is about to set up an Atmanirbhar Bharat corner in 100 Indian Missions/ Embassies across the world. The corner will be an exclusive space to promote GI tagged tribal art and craft products besides natural and organic products.
Eco-Friendly Pankhas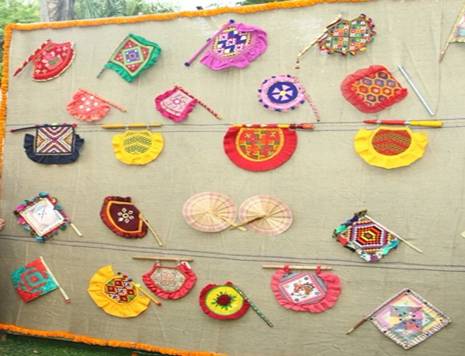 TRIFED also collaborated with the Ministry of Defence once again to supply handmade pankhas to eminent dignitaries and guests who participate in the Independence Day celebrations.
Sourced from artisans across the country from states such as Rajasthan, Odisha, West Bengal, Bihar, Gujarat and Jharkhand, these pankhas are eco-friendly and have been made out of natural, organic materials. As a memorabilia, these pankhas help revive memories of the past when these were an integral part of Indian households and offered comfort in the scorching heat.
The Tribes India pankhas are also available for sale in TRIBES India retail outlets across the country and also on its e-commerce platform.
In its mission to empower the downtrodden tribal people, by promoting the economic welfare of their communities across India (through development of marketing and the sustained upgradation of their skills), TRIFED has been procuring and marketing of tribal art and craft items through its network of retail outlets called Tribes India. From a single flagship store at 9 Mahadev Road, New Delhi in 1999, there are now 141 retail outlets across India.