What are Eco-friendly Green Crackers ? Everything you need to Know
On October 5th, 2019 Dr. Harsh Vardhan, Union Minister for Science & Technology, Earth Sciences and Health and Family Welfare – launched eco-friendly 'green crackers' in a bid to curb levels of pollution. The Health Minister displayed some of the green crackers including flower pots, pencils, sparklers and chakkar.
What are Eco-friendly Green Crackers ?
The green crackers are eco-friendly firecrackers that have been developed keeping in mind the pollution hazard and health risks, which the regular firecrackers pose. These are advertised as eco-friendly alternatives to regular fire-crackers and will help in celebrating diwali in eco-friendly manner.
How are Green Crackers better than regular fire-works ?
Green crackers are "less harmful" to the environment, with about 15 to 30 per cent less emission than regular crackers. Additionally, the emitted sound has also been reduced from 160 decibels to 125 decibels.
How have been these Green Crackers developed ?
The Council of Scientific and Industrial Research (CSIR) in collaboration with the National Environmental Engineering Research Institute (NEERI) has been at the forefront of green cracker research. CSIR-NEERI has developed new formulations that are chemically different from traditional ones & have lower aluminium, barium, potassium nitrate and carbon content. As a result, it has developed reduced emission light and sound emitting crackers, with 30% reduction in particulate matter.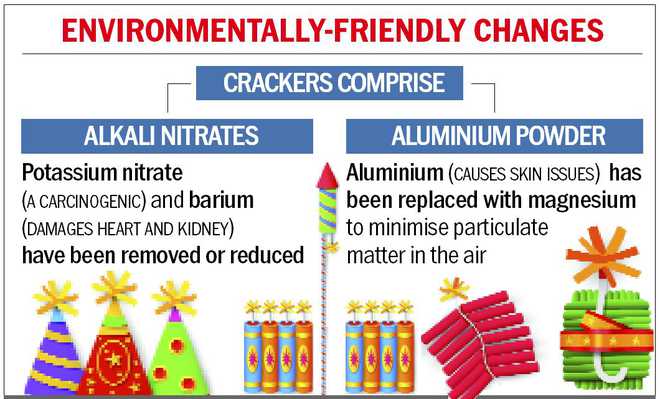 Are these green crackers being manufactured ?
CSIR has signed nearly 230 MoUs and 165 Non-disclosure Agreements with firework manufacturers in order to deliver the crackers timely before Diwali. Also around 65 more manufacturers are in the process of coming on board.
About 530 emissions testing certificates have been issued to fireworks manufactures for new and improved formulations meeting the stipulated guidelines of green fire-crackers.
How can people differentiate green crackers from regular ones?
A green logo as well as a Quick Response (QR) coding system has been developed for differentiation of green fire-crackers from conventional crackers. QR codes is a novel feature incorporated on the fire crackers to avoid manufacture and sale of counterfeit products. This will also help the consumers to track the cracker using smart phones and other devices.
Additionally, a helpline has also been created for any queries related to emission certificates, QR Codes and formulations. The helpline is available at: +918617770964 and +919049598046, or, email at: director@neeri.res.in.
How much will the green fire-crackers cost ?
The cost of the new green fire-crackers is stated to be either equal to the normal fire-crackers. According to reports, the green crackers cost about 20% more than traditional crackers.
What are the different green fire-crackers available in market ?
CSIR-NEERI has developed three types of green firecrackers namely — Safe Water Releaser (SWAS), Safe Thermite Cracker (STAR) and Safe Minimal Aluminium (SAFAL). On 5th October, Dr Harsh Vardhan also displayed samples of sound emitting crackers, flowerpots, pencils, chakkar and sparklers. However, as per a report, only 'anar', 'phuljhadi' and 'sky-shot' are available in the market.