Clothes made from lotus Stem Fibers | Bijiyashanti Tongbram from Manipur
Clothes made from lotus Stem | 27 year old Bijiyashanti Tongbram from Manipur makes fibers from lotus stem gathered from the Loktak Lake, then she spins this yarn into scarves, stoles, neckties & other apparels. Her innovative approach has caught the attention of many, including the state Chief Minister N Biren Singh & Prime Minister Narendra Modi. In his recent, Mann Ki Baat radio programme, PM Modi appreciated Bijiyashanti for her innovative ideas.
Clothes made from lotus stem are in high demand in foreign countries. There are only a few places in the world where this kind of work is done – in Myanmar and in Cambodia. This has opened new avenues in the field of lotus farming and textile.
Bijiyashanti Tongbram: The Journey
A graduate in botany honours, Bijiyashanti is the daughter of Joykumar Tangram and Sanahal Tongbram, of Thanga Tongbram village, near Loktak, the largest freshwater lake in the Northeast region. Bijiyashanti Tongbram's father is a field assistant in the Fishery department of Manipur.
In 2014, after gratuating from GP Women's college Imphal, Bijiyashanti's initial plan was to establish agro-tourism in her area. However, due to lack of resources, her plans could not take flight. Nevertheless, her experiment with lotus's medicinal properties continued.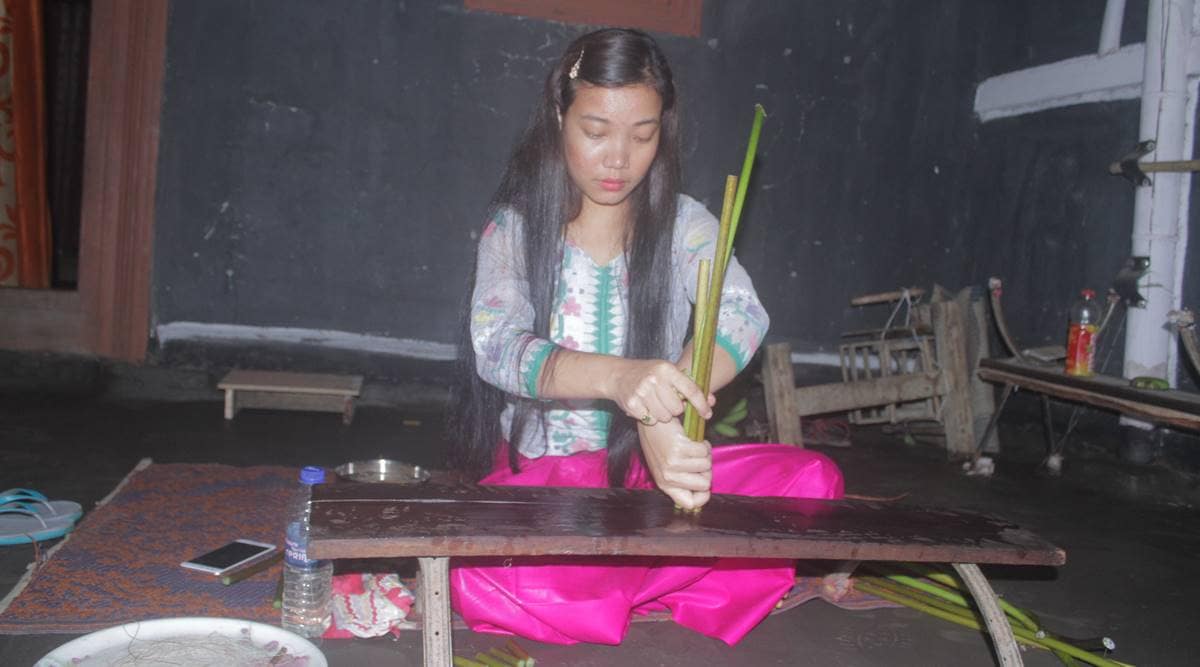 Later in May 2019, she started spinning yarn from lotus stems and weaving neckties, mufflers, etc., with the help of a handful of women from her locality. Subsequently, she set up an enterprise 'Sanajing Sana Thambal", which now has 10 women, including her. Sanajing Sana Thambal has been recently selected for Start-Up Manipur.
Turning Lotus into Yarn
Along with women team at her own enterprise 'Sanajing Sana Thambal', she breaks the lotus stem at the length of a thumb and pulls and expands the fire from the lotus stem. Using their palms and the wooden plank, the fiber is then hand-rolled at their desired size.
Ayingbi, a weaver working at the enterprise, said "the lotus thread is similar to that of muga silk and the only difference lies in the strength. Muga silk is stronger than lotus. But the finish products are as good as silk. As the lotus thread is delicate, using machines may not be feasible as of now. So, we are using traditional handloom".
The fiber extracted from the lotus stems and stalk is produced as yarns for weaving cloths, neckties and scarves on loin loom.
Join us to congratulate Bijiyashanti and wish her all success.