Impakter launches eco marketplace with 9000+ verified ecofriendly products
Impakter launches Impakter Eco, a one-stop shop for eco-friendly and sustainable products with over 9,000 products vetted and verified by the Impakter Sustainability Index.
Leveraging its expertise in sustainability, Impakter has launched an eco marketplace for environmentally friendly products, vetted and verified using the same evaluation method behind Impakter's Sustainability Index that has assessed over 500 of the world's leading companies. 
The index and methodology was developed over the last five years by a team of experts and tested at the Haas Innovation Lab in Berkeley. Since June 2021, it has served as a key component of United Nations Industrial Development Organization's (UNIDO) Global Sustainability Index, which aims to drive a more transparent ESG and SDGs compliant methodology.  
The sustainable marketplace will offer over 9,000 products from 110 verified brands – rated A or B on the Impakter Sustainability Index – across a wide range of niches and needs for women, men, and kids, including fashion, beauty, homeware, pet products and more.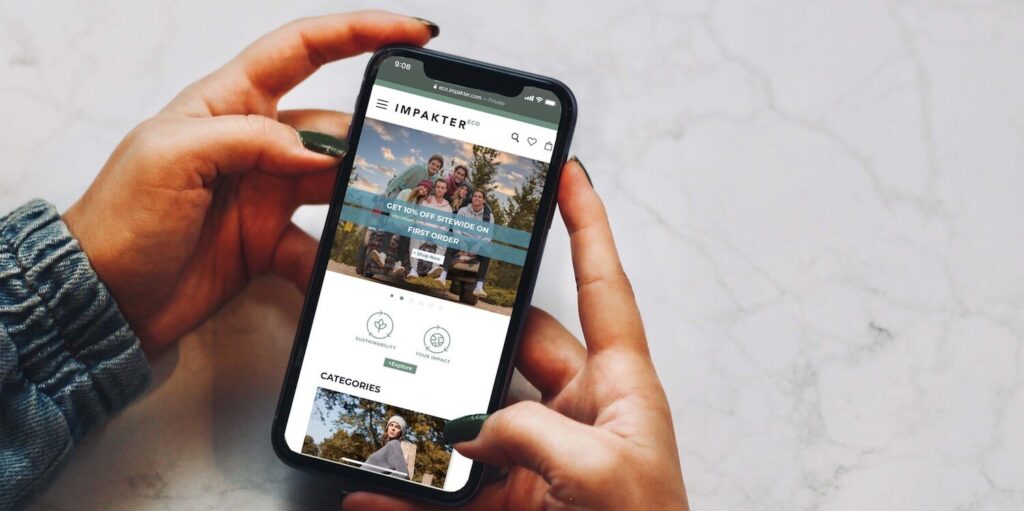 IMPAKTER ECO fills a gap in the sustainable e-commerce market by taking a structured approach to delivering verified eco products to consumers using the IMPAKTER index and a three-pillar methodology system focused on three key areas: certifications, commercial viability, and customer relationship service.
Certifications: Finding companies that are certified ensures they adhere to EU regulations and employ sustainable practices across every aspect of their business, from sourcing, manufacturing, and distribution. We look for primary certificates, those that are independent from their "clients" (the companies they certify) and rely on outside expertise. 
Commercial viability: Is the product well designed and executed? Is there sufficient demand for it? A company's capacity to make an impact depends directly on its ability to keep consumers satisfied with quality products and effective brand communication and marketing. This is what makes for commercial viability. It's a key aspect that the Impakter Index, used for rating the brands, also takes into account. Brands chosen for the ECO marketplace therefore have a proven track record in this respect, and our team of analysts took the time to verify it in every instance.
Customer relationship service: Is the company able to distribute its products efficiently so that they reach consumers intact and on time? Our team tracks the behavior of brands so that news of consumer or employee complaints and whistle-blower reports is followed up and, if credible, included in the Impakter Index as part of our monitoring process. 
At the heart of this methodology, is a mission to empower people to live a sustainable lifestyle by making it easy for consumers to make informed choices.
More people than ever before are aware of the importance of sustainability, but with little consensus on what it really means, we remain mired in the corporate greenwashing and self-certification that misleads consumers and harms the planet. While there is merit in striking on Fridays and taking part in protest marches every weekend, not everyone who would like to protest can find the opportunity or time to do so.
This is where Impakter Eco comes in. Taking a pragmatic and inclusive approach to climate action, Impakter Eco empowers the public to #votewithyourwallet 365 days a year by supporting companies with shared values and priorities. 
Impakter Eco is offering products exclusively vetted and certified by the same methodology that powers the UNIDO Sustainability Index. This way, the Impakter Eco marketplace is specifically designed to help consumers bridge the information gap around sustainability and fight greenwashing with informed purchases.
Featured Brands at Impakter Eco:
Featured Women's Fashion Brands at Impakter Eco
Brand: Achiy
Achiy's hand-knitted pieces are made from alpaca wool, ethically and sustainably sourced from Peru and certified by the International Alpaca Association. Their yarns use biodegradable dyes and are OEKO-TEX 100, Organic Content Standard, and Global Organic Textile Standard (GOTS) certified.
SDGs: 1, 4, 8, 12, 13, 17
Brand: Seads
Seads espadrilles are made with SEAQUAL® YARN, a high quality 100% recycled polyester yarn containing upcycled marine plastic from the SEAQUAL INITIATIVE, a global collaboration of NGOs, fishermen communities, research institutes, and manufacturers united in the fight against plastic pollution.
SDGs: 12, 13, 14
Featured Men's Fashion Brands at Impakter Eco
Brand: The Shash
Launched in 2017, Madrid-based sustainable fashion brand, The Shash, offers elegantly designed pieces that are handmade from rescued deadstock fabric and sustainable materials such as linen, TENCEL™ Lyocell, Cupro, and organic linen.
SDGs: 8,11,12,13
Brand: Absolutely Bear
Designed for the progressive urban man and crafted with nature in mind, Absolutely Bear is a sustainable clothing brand offering smart casual pieces that reflect a British heritage.
SDGs: 5,6,8,12,13
Featured Kids Brands at Impakter Eco
Brand: New Ordinary People
New Ordinary People is a clothing and accessory line made of 100% eco-friendly materials. Manufactured on demand to promote more responsible and rational consumption, NOPs products are Vegan, and GOTS and Fair Wear certified. For every item sold, a tree is planted.
SDGs: 8,12
Brand: Pop My Way
Pop My Way is a sustainable baby clothing brand that features mix-and-match baby essentials with interchangeable accessories that are designed to "pop" onto the garment for ease and functionality. They use only 100% GOTS certified organic pima cotton, ethically sourced, exceptionally soft, and incredibly durable.
SDGs : 1, 3, 11,13,14

Homeware
Brand: Good & Mojo
Dutch brand Good & Mojo crafts modern stylish lamps from sustainable and natural materials such as cork, bamboo or organic linen. Part of their proceeds are donated to the WakaWaka Foundation to fight energy poverty.
SDGs: 11,12,13.
Brand: Nature's Design
Nature's Design makes glass homeware and decorative items from Swiss stone pine wood. Their products are 99% plastic-free and embody elegant Swiss design and quality.
SDGs: 11,12,13
Pet
Brand: United Pets
Milanese brand, United Pets, sells sustainable pet accessories. Each item is the product of collaboration with a designer, reflecting a fun and functional aesthetic.
SDGs: 3,4,5,12,15
Brand: Laboni
Laboni creates luxurious dog beds, handmade bowls and dog toys functionally designed for maximum comfort and made using sustainable materials.
SDGs: 5,8,10,12,17
Food & Drink
Brand: Veggie Karma
Veggie Karma makes unpasteurized vegan cheese from FairTrade cashew nuts sourced from a small cooperative in Senegal. All their creations are lactose free, cholesterol free, gluten free certified, and organic certified.
SDGs: 12, 13, 14, 15, 16
Brand: Freely Handustry
Freely Handustry makes gluten, dairy, and soy free cookies and cookie doughs from natural and vegan ingredients, and processed using green energy. The company is committed to zero waste and donate their damaged biscuits to charities.
SDGs: 3, 9, 12, 13, 15

Beauty Care
Brand: Ukviat
Polish skincare brand Ukviat offers a range of facial serums containing potent natural ingredients. The company has partnered up with a number of NGOs to support reforestation and marine conservation efforts with every product sold.
SDGs:13,14,15
Brand: Mash Natural Beauty
Mash Natural Beauty creates luxurious body balms and scrubs packed full of natural oils, vitamins, and other active ingredients packaged in sustainable glass jars.
SDGs: 3,12,15