Ministry of Tribal Affairs and KVIC Sign MoU to promote Khadi & Entrepreneurship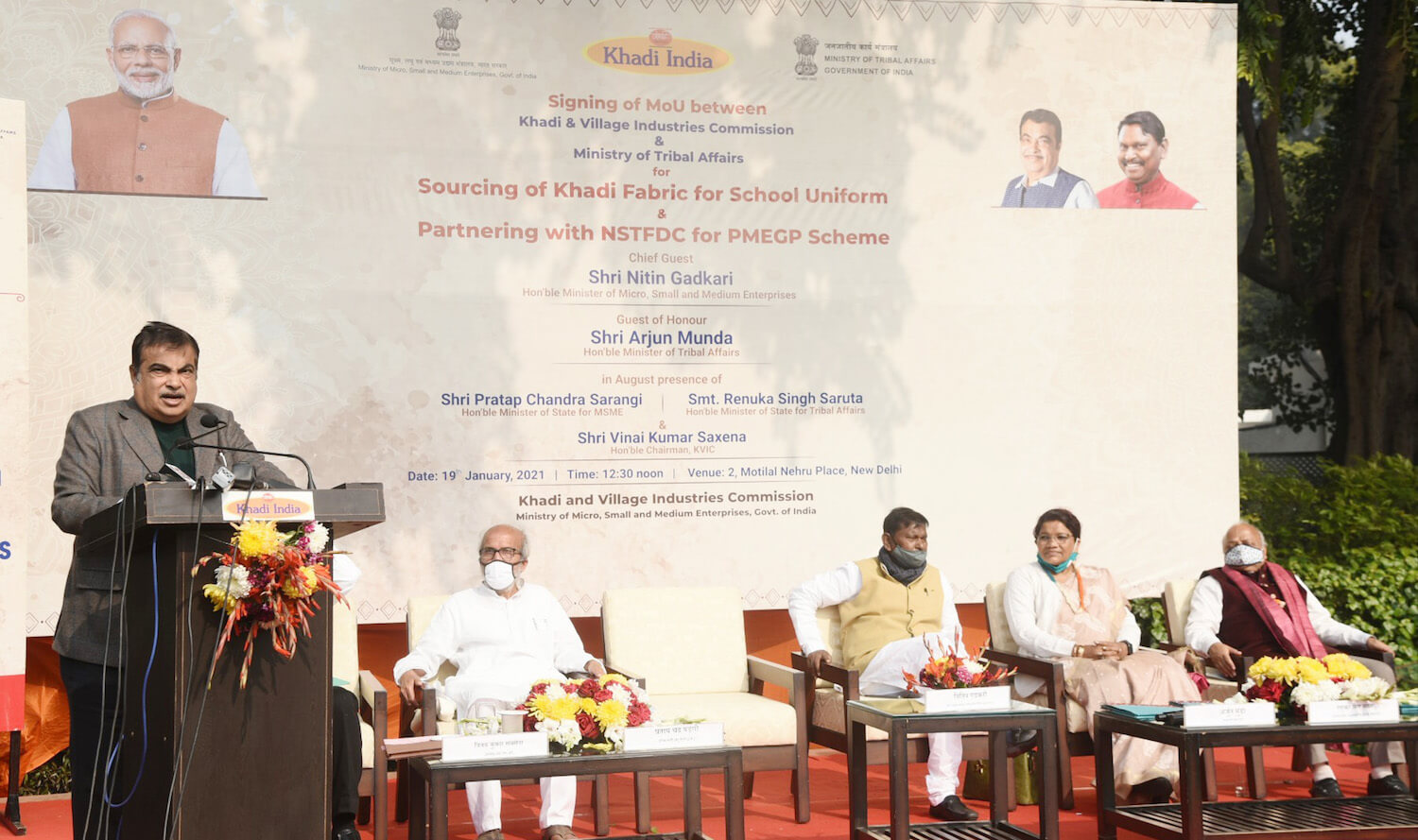 On 19th January 2020, Ministry of Tribal Affairs signed two important MoUs with KVIC for purchase of Khadi fabric for tribal students, and on partnering with KVIC as an implementing agency for Prime Minister Employment Generation Program (PMEGP).
MoU 1: To Promote Khadi
Between National Education Society for Tribal Students (NESTS) & KVIC
The Ministry of Tribal Affairs (MoTA) through NESTS has entered into a MoU with KVIC to procure around 6 lakh metre of Khadi Fabric at an approximate cost of around Rs. 15 crores.
The Ministry of Tribal Affairs is running Eklavya Residential schools where at present 75000 tribal students are studying in remote locations of 23 states of India.
Ministry has recently standardised school uniform design for the students in the Schools with a distinct logo in partnership with National Institute of Fashion Technology (NIFT), New Delhi.
The current requirement is of around 6 lakh metre which shall increase in subsequent years as enrolment in the schools will go up. In order to take this forward, the Ministry through NESTS shall be entering into an MoU for procuring the fabric at an approximate cost of Rs. 1477.35 lakhs for 2020-21.
The MoU was been signed in the presence of Union Minister of Tribal Affairs Shri Arjun Munda and Union Minister of Micro, Small and Medium Enterprises (MSME) Shri Nitin Gadkari.
Based on success of this initiative, other requirements of schools like Beddings, Towels, Dari etc. can also be procured from KVIC in future.
2. MOU – To promote tribal entrepreneurship
Between National Scheduled Tribe Finance Development Corporation (NSTFDC) and KVIC
NSTFDC is a Section 25 company under the Ministry of Tribal Affairs responsible for implementing concessional loan schemes for economic development of Tribals in India for funding entrepreneurial ventures of aspiring scheduled tribes in all sectors of economy.
NSTFDC has been enrolled as implementing agency under PM Employment Generation Program (PMEGP scheme) in order to increase the coverage of PMEGP amongst STs.
MoU between NSTFDC and KVIC will formalize this arrangement and will be a landmark initiative to bring synergy between NSTFDC and KVIC in reaching out to tribal entrepreneurs under the larger ambit of PMEGP scheme.
It would result in identification of the prospective ST micro-enterprises to be financed under PMEGP Scheme and help in increasing coverage of PMEGP in tribals.
MOU between TRIFED & IFFDC
In a separate development, TRIFED and Indian Farm Forestry Development Co-operative Ltd (IFFDC) have entered into a Memorandum of Understanding (MoU) on January 18, 2021 to work together for tribal livelihood generation. 
The two organizations have agreed to partner with each other to organise training programmes for tribal artisans in the area of entrepreneurship skill and business development. They will also collaborate further to identify and implement CSR initiatives and tribal development efforts.
Other areas of association have been identified through which IFFDC promoted PFFCS/SHGs/CBOs will be linked with TRIFED for collection and marketing of NTFPs/MFPs.
IFFDC will also assist in promoting tribal FPOs and will provide trainings to TRIFED promoted/linked Community Organisations/Members. The scope of the agreement will also include any other activity that can be taken up to strengthen tribal livelihoods and entrepreneurship development.