Khadi Mask
Face mask prepared from Double Twisted khadi fabric not only meet the quality and scale of demand but are cost effective, breathable, washable, reusable, skin-friendly and bio-degradable. What makes Khadi mask more special is the hand-spun and hand-woven cotton, muslin and Silk fabrics.
What is Khadi ? Khadi essentially means hand-spun and hand-woven cloth. Khadi also called khaddar, is a hand-woven natural fibre cloth usually, woven from cotton. However, it may also include silk or wool, which are all spun into yarn on a hand-driven spinning wheel called a charkha. Cotton based Khadi is a versatile fabric, cool in summer and warm in winter. Sometimes it is starched in order to improve its looks & give it a stiffer feel.
Khadi Mask at Amazon
Khadi Masks by KVIC
Considering the huge demand of face masks during the global Covid-19 pandemic, the Khadi & Village Industries Commission (KVIC), Government of India developed double layered and triple-layered Khadi based face-masks. KVIC is specifically using Double Twisted Khadi fabric for manufacturing of these masks as it helps retains moisture content inside, while providing an easy passage for the air to pass through. KVIC is selling these Khadi mask under its brand name "Khadi India".
Keeping in view the Diwali festival, KVIC has launched a limited edition of two-layered "Happy Diwali" printed khadi mask made of pure Muslin fabric, a high quality and ultra-fine cotton fabric handmade by traditional Khadi artisans of West Bengal. Apart from protecting people from the spread of disease, this is creating additional employment for Khadi artisans.
The Khadi Cotton face masks are made of double-twisted 100% cotton fabric. These masks are double-layered with three pleats and available in three sizes – Small, Medium and Large. These masks are available in two patterns – white mask with black piping and white mask with tri-color piping.
The Silk masks, on the other hand, are triple-layered with two inner layers of 100% Khadi Cotton and the top layer of Khadi Silk fabric. The Silk masks are available in a wide range of color options in printed as well as non-printed patterns. Khadi Silk masks are available in a standard size with adjustable ear loops with attractive beads.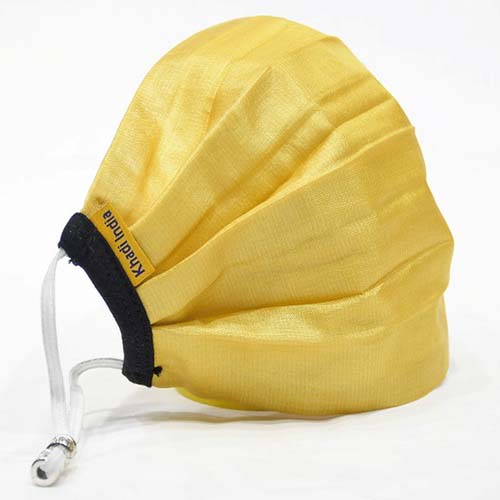 Khadi India Silk Mask
Khadi India Cotton Mask
Note: Khadi India is a trademark owned by KVIC, GoI and Prakati India has only published this information for spreading awareness & providing information regarding the initiative. Prakati India is neither related nor intends to show any relation to Khadi India. Our aim is to spread information regarding sustainable initiatives in India.
Images used have been sourced from Government Portal & displayed here only for visual representation. Prakati is not engaged in sale/trade of Khadi India masks. The buy button takes you (user) directly to KVIC website. Our aim is to improve KVIC visibility & spread awareness regarding the initiative. Everything related to Khadi India is property of KVIC.