Best Eco Friendly Biodegradable Sanitary Pads
Biodegradable Sanitary Pads
As per a 2021 report by the environmental group Toxics Link, 12.3 billion or 113,000 tonnes of used sanitary pads are dumped in landfills in India every year, adding to the already existing plastic pollution in the country. Each of these Sanitary pads could take upto 500-800 years to decompose. On an average, a woman could use up to 10,000 sanitary pads from menarche to menopause and there are more than 35 crore menstruating women in India. 
The sanitary pads commonly used by women from all classes contain super-absorbent polymers (SAP), which don't decompose. They gradually break down into what are known as micro-plastics, which contaminate soil, water and air.
They also enter the food chain injecting toxins into the food humans and animals consume. Two of the ingredients used in commercial non-biodegradable menstrual napkins also have serious health consequences for women. These are dioxins that are used to bleach the absorbent core and responsible for side-effects in the body such as pelvic inflammatory disease, ovarian cancer, immune system damage, impaired fertility and diabetes.
The ecological damage caused by this will have far-reaching consequences and the plastic containing sanitary napkins can actually create more problems than they aim to solve. It is time to Switch to Bio-degradable Sanitary Pads.
Laado
Laado Organic Sanitary Pad is a step to reinvent feminine hygiene in India by Reckon Care. The company aspires to be a global feminine hygiene product company by creating an environment where Empowered Women can look out for one another.
Their mission is to bring premium quality, eco-friendly sanitary pads to women with affordable rates in India and empower them with a choice for their necessity.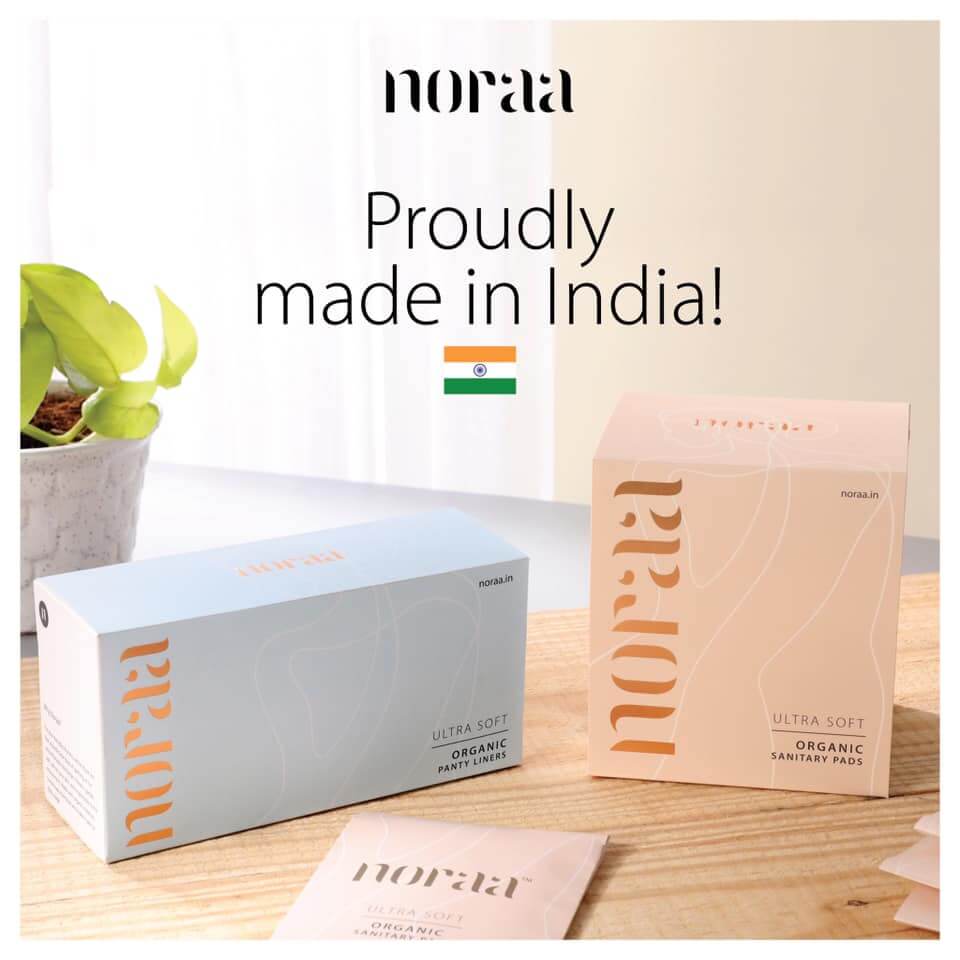 Noraa
Noraa Sanitary pad is an environmentally responsible product that biodegrades completely in 6 months. The pads are made using use organic cotton, corn starch, virgin pulp and bamboo as raw material. Hence, these Sanitary pads are 100% organic, biodegradable, safe, soft, comfortable and super absorbent. Breathable layers make sure there's ample air circulation.
Together with an all-woman manufacturing unit, Noraa aims to create an ecosystem for menstrual hygiene to help women have a worry-free period.
PeeSafe
PeeSafe Sanitary pads are made entirely of bamboo fibre along with organic cotton. The organic cotton is grown through a natural process without the use of any chemicals or fertilisers to ensure your direct contact with the pad is safe and secure.
These pads come with individual biodegradable disposable bags making it not just safe for you but also for the environment.
Saathi
Saathi biodegradable Sanitary pads are thoughtfully designed to use natural, locally-sourced materials, including banana fibre. Saathi pads are gentle on the skin and Mother Earth, disappearing quickly upon disposal. The pads are 100% Chemical Free, plastic free and IS:5405-1980 certified.
By purchasing Saathi pads, you also give the gift of biodegradable pads to women in rural communities.
Heyday
Heyday creates compostable pads in two varieties: Ultra Thin (super slim) and Maxi Fluff (thick and bouncy). Both have seven super absorbent core sheets made from plant-based fibres like bamboo, which is then meshed with corn starch for a very soft texture. Every napkin has an individual cover made from corn starch and bioactive lactide that is also biodegradable.
Heyday pads are biodegradable within 2 years of disposal. The packaging is made with soy coated paper or oxo-degradable bags.
Other Notable Brands:
---
Check out Biodegradable Sanitary Pad on:

Product Images are properties of Individual Product Companies.