Talking Threads: Celebrating Ancient Indian Textiles
Talking Threads is a 25 year old legacy label that celebrates ancient Indian textiles in the most fashion forward and avant garde designs. Inspired by tradition and moved by the modern world, Talking Threads celebrates culture in fashion and exceptional craftsmanship while masterfully delivering on the promise of customised and personalised luxury. Founded under the creative direction of Pearl Uppal Kachru, Talking Threads is rooted in the rich Indian legacy of masterful artisanal skills and attention to detail. For men, the brand focuses on Indian Wedding Couture. Classic and timeless aesthetics, colors that tell a story, and significant artisanal contribution in every piece, makes Talking Threads a unique and distinctive offering in the world of Indian luxury fashion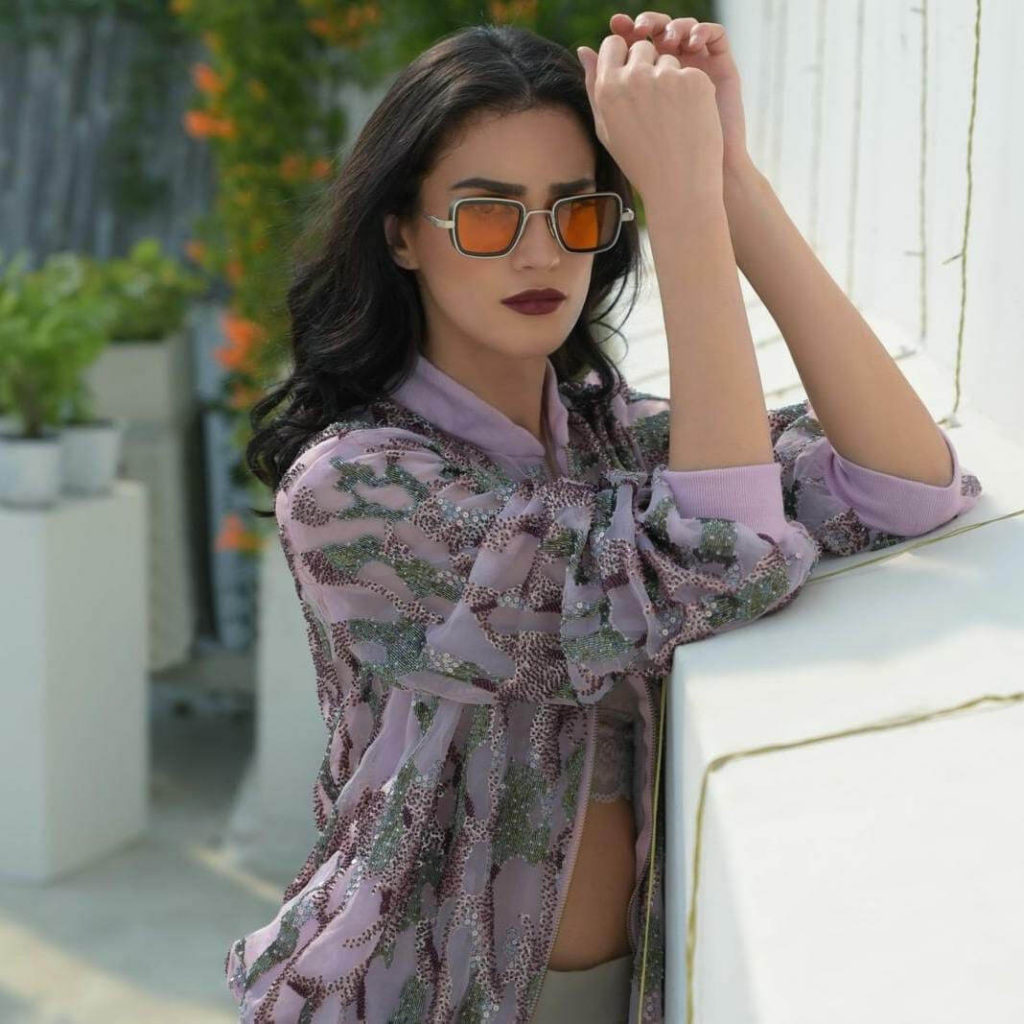 Support Artisan Collection:
Under #SupportArtisans initiative, Talking Threads is supporting our community of artisans by giving visibility of their hand made textile stock and helping them with increased marketing, operations and logistics through its platform.
Kani Woven Pashmina
Kani weave is one of the oldest handicrafts of Kashmir, originating from Kanihama area of Kashmir. Kani in Kashmir stands for small wooden sticks which are used to create eclectic patterns in Pashminas at the time of weaving. Weaving is meticulously regulated by a coded pattern, known as the Talim drawn by the Naqash (block printer) for guidance of the weaver. A fully Jamawar Kani Pashmina takes about 24 months to complete.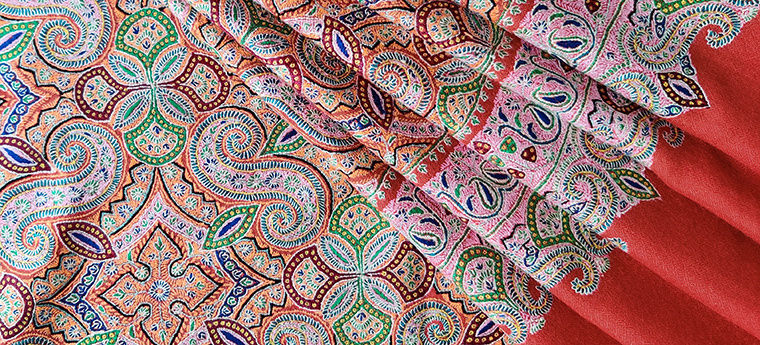 Kashidakari
The craftsman, with the help of a specialised needle takes inspiration from the delicate beauty of the nature in the Valley and inscribes them in fine embroidery, done purely by hand.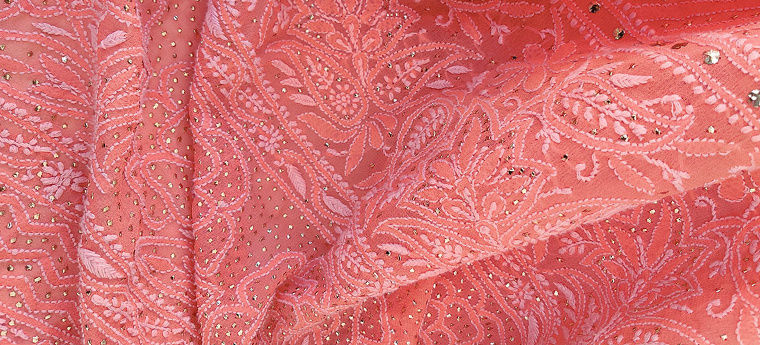 Chikankari
The delicate hand embroidery Chikankari is among the traditional embroidery style from lucknow. The artfully done precise hand work brings a subtle, classy and modern feel to the piece. The Chikankari motifs are floral patterns and Persian influenced paisleys, buti, leaves and stems. The technique involves creating the design, engraving it on wooden block stamps so that the same can be traced down on the fabric. The fabric is then set on a frame and hand embroidered with backstitch, chain stitch and hemstitch.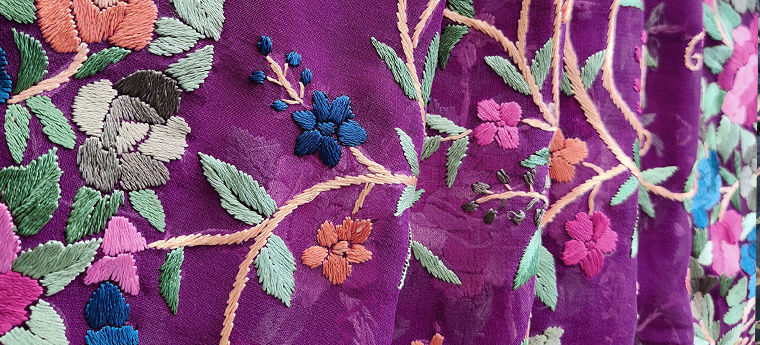 Parsi Gara
Parsi Gara embroidery is an aesthetic composition of pictorial traditions and an emblem of elegance. Combining the beauty inherent in four cultural traditions – Persian, Chinese, Indian and European – this exquisite textile form is truly an intercultural craft. 'Gara' is the Gujarati word for sari and as the embroidery was inspired by the parsi art, hence parsi gara. The motifs are influenced by the flora, birds and even scenes and stories of Chinese origin like the bridges, pagodas, boatmen and shrines, very rarely even geometric designs are created. Stain stitch, crewel stitch, stem stitch and French knots are used to create these intricate masterpieces.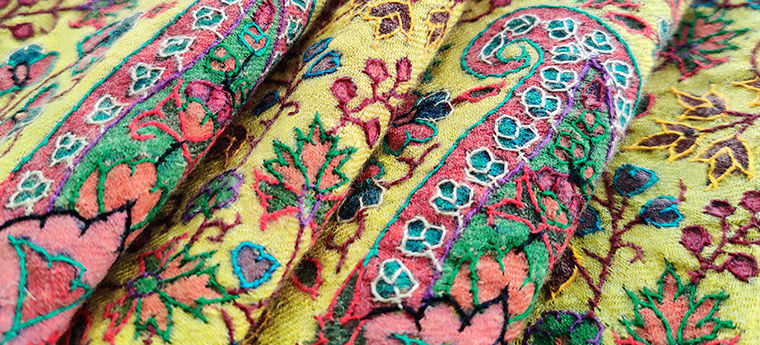 Marori Craft
Marori is a century old craft part of zardozi embroidery heritage. The Marori stitch is a part of zardozi embroidery (an ancient Persian art of metallic appliqu embroidery) which involves the zari thread being twisted and coiled in different ways and couched onto the fabric to form patterns and designs.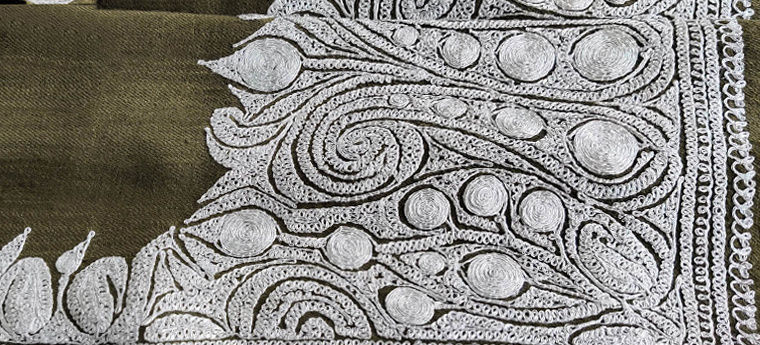 Tilla Embriodery
Heritage needlework in gilded zari and tilla adorns these masterly crafted shawls and sarees.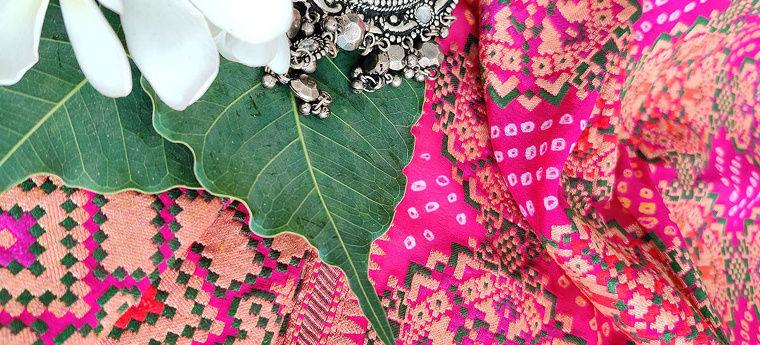 Bandhej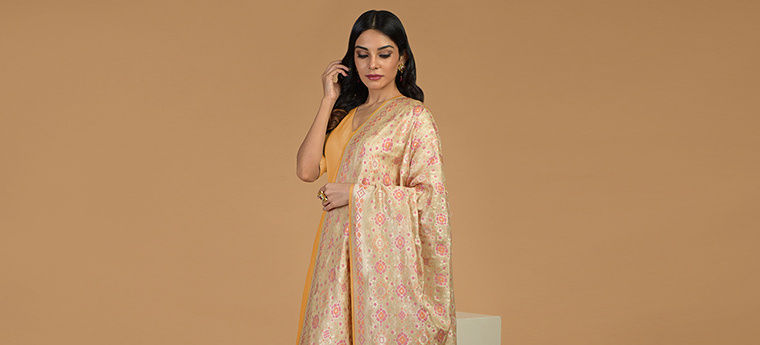 Benares
Check Out Talking Threads Store: