The Higg Index for apparel and footwear industry
The Higg Index is an apparel and footwear industry self-assessment standard for assessing environmental and social sustainability throughout the supply chain. It was developed by the Sustainable Apparel Coalition, a nonprofit organization founded by a group of fashion companies.
According to the Coalition's Executive Director, Jason Kibbey, the name "Higg" was inspired by the Higgs Boson search. The name Higg also met other key criteria: it was short, easy to pronounce and was able to clear trademark registration in 120 countries(1).
The Higg Index
The Higg Index delivers a holistic overview that empowers businesses to make meaningful improvements that protect the well-being of factory workers, local communities, and the environment. The Index provides a tool for the apparel and footwear industry to assess sustainability throughout a product's entire life cycle, from materials to end-of-life. It enables brands, retailers, and facilities of all sizes — at every stage in their sustainability journey — to accurately measure and score a company or product's sustainability performance.
The Higg Index:

Version 1.0
Version 1.0 of the Higg Index was made public in July 2012. The index metrics focus on environmental factors in the apparel supply chain.
The Higg Index:

Version 2.0
An updated version of the Higg Index was released on 11 December 2013, named as Version 2.0. The Higg 2.0 has a better online platform developed by Schneider Electric–increasing accuracy and adding the ability to share users' sustainability data. Additionally, added and improved content in the Higg Index 2.0 includes: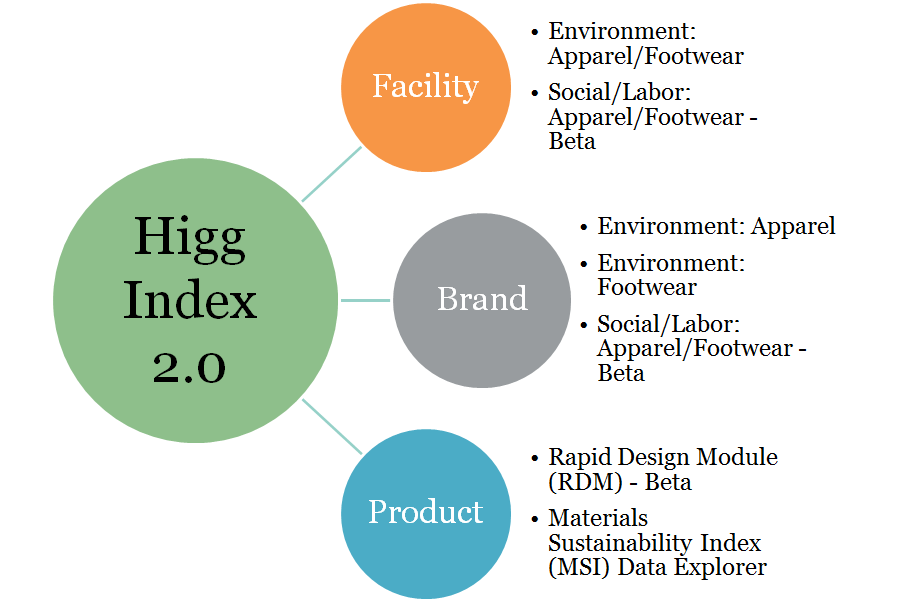 Higg FEM
The Higg facility environmental module (Higg FEM) is a sustainability assessment tool that standardizes how facilities measure and evaluate their environmental performance, year over year.
The Higg Index is a suite of self-assessment tools, Higg FEM is just one of them, with practical, qualitative questions to assess the environmental performance of sustainable development, pushing manufacturers to improve. A verified module, by the qualified verifier, can improve trust in the supply chain and for customers. Higg FEM version V3 was released in November 2017.
Update of Higg Index FEM V3
Compared with V2, the most significant change in the seven sections of V3 are to the chemical management part, which include the integration of ZDHC, OIA and SAC chemical management
Applicability test in water use, wastewater, air emissions, chemical management sections
Level 1 must be achieved to unlock access to levels 2 & 3
Seven sections of Higg Index FEM V3 content
Environmental Management System
Energy and Greenhouse Gas Emissions
Air Emissions
Water Use
Wastewater
Chemicals Management
There are three levels (1, 2 and 3) in all seven sections. Level 1 must be achieved to unlock levels 2 & 3.
How does it work?
The Index asks practice-based, qualitative questions to gauge social and environmental sustainability performance and drive behavior for improvement, helping organizations standardize how they measure and evaluate social and environmental performance of apparel and footwear products across the supply chain at the brand, product, and facility levels. The index includes modules for brands (assess product-specific practices at the brand level), facilities (assess materials, packaging, and manufacturing supplier facilities), and product (assess product-specific impacts).
Why is this important?
Measuring this data can help support supply chain decision-making and behavior change improvements. The Index is a learning tool for companies to identify challenges and capture on-going improvement. It targets a spectrum of performance that allows beginners and leaders in environmental sustainability, regardless of company size, to identify opportunities.
Sustainable Apparel Coalition (SAC)
The Sustainable Apparel Coalition is the apparel, footwear, and textile industry's leading alliance for sustainable production. The Coalition develops the Higg Index, a suite of tools that standardizes value chain sustainability measurement for all industry participants.
The SAC includes companies with nearly 40 percent of the apparel and footwear market, their combined annual apparel and footwear revenues exceed $750 billion.