Why Clay Ganesha Idols are best to have at your Home for Ganesh Chaturthi
Ganesh Chaturthi is getting closer and the festival brings the joy of celebration and love, among families. The eco-friendly Ganesha clay idols may be created just as quickly and cheaply as those made of POP, but they are much better for the environment and your health. So let us discuss about the benefits of clay Ganesha idols and some of the best available clay Ganesha idols available at Amazon.
Benefits of using Clay for making Ganesha idols
1. Does not result in Water Pollution
Plaster of Paris (POP), which is used to create Ganesha idols, does not break down readily, which might have significant consequences like polluting water. The substance also raises the acidity of water sources, which has the potential effect on marine life.
The ecology of aquatic organisms may be impacted by the pollution of the water bodies. They not only assist in maintaining the safety and purity of the water but also in preventing the spread of common pests like mosquitoes (fish found in lakes and ponds feed on mosquitoes). Clay idols are bio-degradable and does not pollute the water bodies like the conventional idols.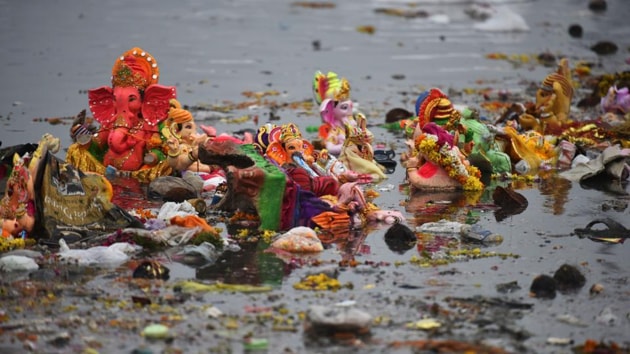 2. Metal content in Water Bodies can be Reduced
POP contains substances including sulfur, gypsum, phosphorus, and magnesium. These idols are frequently painted with dyes that also include mercury, cadmium, arsenic, lead, and carbon. When these idols are submerged in common water sources (such as the sea, ponds, lakes, etc.), the water becomes heavily poisoned with metal and other toxins, killing aquatic animals and vegetation.
This not only results in the occurrence known as "dead water bodies," where the water body is barren of all life, but it also increases the risk of heavy metal poisoning from eating fish contaminated with these metals. These heavy metals are known to affect the neurological, circulatory, and digestive systems of the body when eaten. Clay idols that doesnt contain any metal content can be a good replacement for POP idols.
3. Dyes and glitters are not good for health
The dyes and glitters used in conventional idols are not eco-friendly and contains health-risk. These glitters can harm your lungs, eyes, and in rare cases, induce allergies when inhaled. An eco-friendly Ganesha idol, however, carries none of those dangers.
4. Easily available
With materials that are easily found at home, eco-friendly Ganesh clay idols can be made. Eco-friendly Ganesh idols are also readily available in the market due to the rise in the number of people who support the environmental protection. Clay idols can also easily made in our homes itself, together with our families this cherishes togetherness.
Best Clay Ganesha Idols available at Amazon
1. Suninow 100 % Eco Friendly Clay Ganesh Idol for Ganesh Chaturthi 
The eco-friendly clay idol from the brand Suninow is 100% bio-degradable. The clay idol was created over the course of 63 days, then it gets completely soluble in water within six hours. The Ganesha idol is packaged in thermacol for safe delivery to your home. The material used is earthenware.
Dimensions : 10 x 6 x 19 Centimeters
2.Eco-Friendly Ganesha Mud/Clay Idol Water Soluble Ganesh from B S NATURAL
Eco Friendly Mati Ganesha Ganpati Murti from B S NATURALS is a good choice for Ganesh Chaturthi. These bio-degradable Ganesha idols can be used to avoid water pollution caused during Ganesh Chaturthi. It is made from 100% Natural Pot Clay (kachi Mitti). The idol should be handled carefully because they are fragile.
Dimensions : 2.5 X 4 inch
3. TIED RIBBONS Eco Friendly Ganesha Idol for Ganpati Visarjan 
It a 100% bio-degradable clay idol from TIED RIBBONS. The clay idol can be painted and decorated at our own accord. There is no harmful chemicals used and it is completely soluble. This helps in reducing water pollution. It can grow a plant inside.
The clay idols are handcrafted and handpainted and thus helps in protecting the rich heritage of artisans of India. It is an ideal decoration for a house-warming celebration, Ganesh Chaturthi, Thanksgiving, or other festive occasions.
Weight : 200 grams | Dimensions : 17 x 11 x 17 Centimeters
3. Swadeshi Blessings Handmade 100% Eco-Friendly Tulsi Clay Ganesha Idol
Swadeshi Blessing's Clay Ganesha Idols are handmade & hand-painted by their local artisan partners. Hence with With every purchase, you contribute to the development & promotion of rich heritage of our country. The Kit it includes:
Clay Ganpati idol,
In-House Vermicompost,
Tulsi Seeds which can be used to plant Tulsi after Home Visarjana.
Hand Written Thank you Note note by Local Artist's Kids.
Other Notable Clay Ganesha Idols:
Check out more on: