Is it Enough to segregate waste?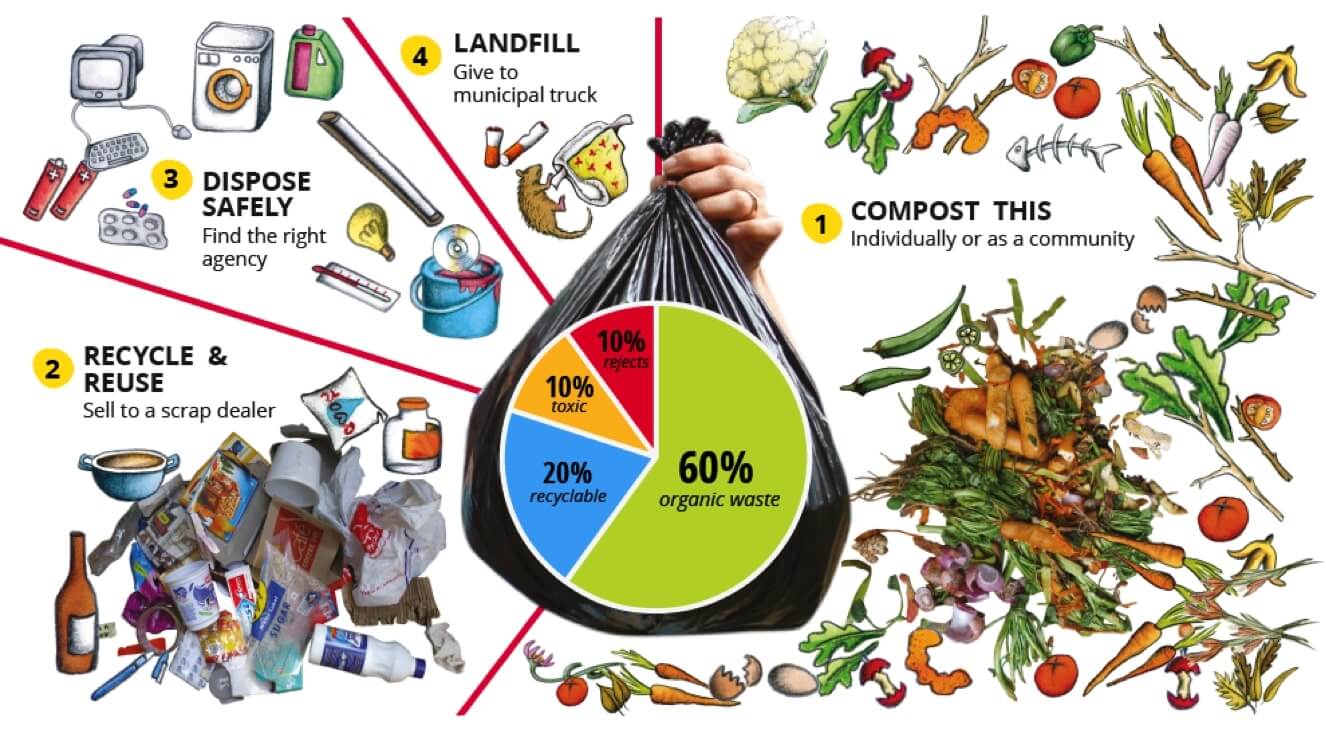 Congratulations on being a responsible citizen of the planet and caring for your waste! In this post, we highlight why it is important to segregate waste?
You have taken the all important first step—a giant leap actually! After all, getting all the members of your household or office to put the right items into the right bins is no small feat. So, kudos to you!
Why unsegregated waste is poison ?
| | |
| --- | --- |
| | |
| Why segregate waste into different categories? | What happens if you dip a biscuit into soap & eat it? |
| If you think about it, it is like a spice box – the masala dabba in almost all Indian kitchens. We store each spice separately as each has a unique flavour. | Both of these are useful separately but poisonous when mixed and ingested – sure to cause an upset tummy! Similarly, mixing waste is making the earth (and us) very sick. |
You add value by segregating
By segregating your waste, you add value to the material. When kept separate, the different waste materials can become resources. This is why people buy our old newspapers. They can be recycled into cereal boxes, egg cartons, pencil barrels, grocery bags, tissue paper and even new newspapers.
But when different categories of waste materials are mixed, their value falls to zero and only help to puff up our landfills a little more every day. Segregation impacts lives, energy, toxicity & more. The better you segregate, the more equitable and healthy society can become.
But don't stop there
Because, more often than not, all the waste that you've carefully segregated ends up getting mixed with all the other waste in the garbage truck and moves from there on to the landfill.
So the plastic bottle or cardboard box that you'd carefully kept separate from your kitchen waste, sooner or later gets some sambar or ketchup on it; making it completely useless … and toxic.
So, how can you make sure that your effort is not undone?
That's easy: just take care of your kitchen waste!
Did you know
60% of the waste we all generate at home is organic? Which means it can easily be converted to compost, right at your doorstep, in a matter of just 8-10 weeks, with minimal effort and care on your part.
A family of 4 in an Indian city can keep away approximately 300kg of kitchen waste from landfills every year.
About the Author
This is guest post by Team Dailydump.org. Founded in 2006, dailydump is engaged in changing the mindsets about "waste", about marginal livelihoods, about whose job it is to take care of "waste", about how we can harm less, etc.